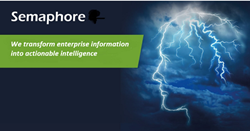 Our growth strategy focuses on innovation, product differentiation and a commitment to transform enterprise information into actionable intelligence for our clients.
San Jose, CA (PRWEB) May 31, 2017
Smartlogic announces a new release of Semaphore with enhanced natural language processing (NLP), accelerated model development, performance and integration improvements in Publisher, a redesigned Semantic Enhancement Server and user experience features.
The enhanced NLP provides additional language support, improved extraction capabilities and supports hierarchical clustering of words based on the context to result in the exact analysis of text.
Semaphore streamlines the model building process with unsupervised learning models and associated learning algorithms that effectively analyze information to drive precise classification output. It scans publicly avail information and returns ordered collections of concepts that can be quickly incorporated into the model using drag and drop technology.
The integration between Semaphore Publisher and Ontology Editor improves the performance of model publishing and creates a flexible and extensible publishing pipeline that can easily add new tasks into the publishing process. In addition to our existing template language, an additional template language, which supports the creation of simple and powerful rule-bases that solve complex problems, is included.
Semantic Enhancement Server (SES) has been redesigned to improve performance and indexing at query time allowing models to be queried in flexible ways. It takes advantage of the Solr Cloud technology, which allows for more resilient setups.
Additional user experience features have been incorporated into Ontology Editor; tool tips and contextual help, keyboard navigation, improved filtering, enhanced importing capabilities as well as support for Semaphore Cloud based models and SharePoint 2016.
"Incorporating sophisticated NLP and machine learning techniques into the Semaphore platform continues a growth strategy that focuses on innovation, product differentiation and a commitment to transform enterprise information into actionable intelligence for our clients. Semaphore is designed to help our clients use information in new ways for risk management, investigative analytics and improve operational effectiveness" says Matthieu Jonglez, CTO Smartlogic.
About Smartlogic
Smartlogic's Semaphore is an enterprise grade semantic platform that allows organizations to realize the business value of their information. By leveraging a common vocabulary and sophisticated semantic techniques Semaphore:

Enriches information assets with precise, complete and consistent metadata
Extracts facts, entities and relationships to drive analytics and workflows
Harmonizes all information sources to gain business insight
Semaphore brings structure to the unstructured, scales to manage organizational volumes and supports industry-standard semantic vocabularies.
Semaphore's model-driven, rule-based semantic approach solves complex business problems that traditional technologies cannot. It integrates into and enhances the capabilities of existing technology to improve time to value for new opportunities.
Global organizations in the energy, healthcare, life sciences, financial services, government & intelligence, media and publishing and high tech manufacturing industries use Semaphore every day to enrich enterprise information with context and meaning. Semaphore extracts critical facts, entities and relationships to power case management, workflows and advanced analytics. It harmonizes different data types from disparate sources to create logical data warehouses with a true semantic layer.