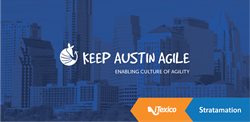 In a globally competitive software development marketplace, our customers know they must optimize their technology investments by having capable development teams and thought leadership that mitigate risks to their brand.
AUSTIN, TX (PRWEB) May 15, 2017
Software development company iTexico and management consultancy Stratamation have joined forces to offer an innovative bundle of software development services to North American funded startups, growth and mid-market companies.
The two firms will offer an integrated package of technology strategies and end-to-end software development services to help their clients accelerate innovation and business transformation.
"In a globally competitive software development marketplace, our customers know they must optimize their technology investments by having capable development teams and thought leadership that mitigate risks to their brand," said Anurag Kumar, co-founder and CEO of iTexico. "We believe Stratamation adds the kind of strategic thought leadership and proven expertise in the boardroom that will help iTexico deliver a better overall software development experience for our clients."
Vijay George, a Stratamation partner added: "Today, it is common to develop and deliver software through the use of a global delivery model, but many organizations have struggled to effectively leverage offshore teams when they are in completely different parts of the globe. That's why Stratamation developed a partnership with iTexico, to offer our customers an easy and effective way to leverage the advantage of a very capable and highly collaborative nearshore development experience, without the downside of time-zone syncing, travel challenges and cultural disconnects among teams."
Stratamation also brings a strong Agile expertise we leverage in project execution. "We implement Agile best practices from a variety of Agile frameworks (Scrum, Kanban, Lean, XP, etc) to achieve business goals: short development cycles of high quality potentially releasable features that are quickly monetizable," said Michael Whitworth, Stratamation partner and Agile Practice Director. "Speed to market and the ability to quickly react to changing business requirements are vital skills our Agile software development teams bring to our clients."
About iTexico
iTexico is devoted to providing dedicated software development teams as a service for mobile, web and cloud. We provide end-to-end design, development, testing, and support services by leveraging an innovative nearshore model. With its headquarters in Austin, TX, as well as a wholly-owned software development and delivery center in Guadalajara and Aguascalientes, Mexico, iTexico has experienced significant growth every year for the last 6 years and maintains strong business partnerships with many large-scale tech companies, including Axway, IBM, Xamarin, and Microsoft. For more information, visit http://www.itexico.com
About Stratamation
Stratamation is a management consulting firm focused on helping organizations transform their business by developing a mature and high-performing technology organization. Stratamation is made up of seasoned executives, CIOs, and business leaders who have helped some of the world's best brands gain a competitive advantage by leveraging a set of proven business and technology frameworks, methodologies and intellectual property. For more information, visit http://www.stratamation.net