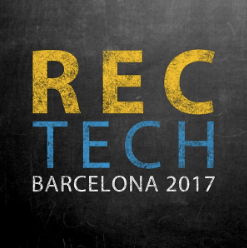 It's more important than ever that our industry understands how programmatic technology is being adapted in recruitment, and what it will mean for the future of recruitment as we know it.
New York, New York (PRWEB) May 15, 2017
RecTech 2017 is coming up, and Recruitics CEO Josh Gampel is slated to open the May 17 conference as the keynote speaker. As the head of the world's leading programmatic job advertising platform, Gampel's featured presentation at the Barcelona event will highlight the evolution of programmatic technology in the recruitment space and important lessons that have been learned since its inception.
"While programmatic technology still feels like a relatively new addition to the recruitment space, the core of the technology has been playing a major role in everything from advertising to eCommerce for years," Gampel said. "It's more important than ever that our industry understands how this technology is being adapted, and what it will mean for the future of recruitment as we know it."
Considering that in 2017 more than two-thirds of US digital display ad spend is attributable to programmatic, it's important to determine how trends like these might translate to the recruitment space. (Source: https://goo.gl/sv83mB )
"Job ads are becoming increasingly important to a company's ability to attract, engage and convert job seekers," Gampel said, "and in this presentation, I'll demonstrate how programmatic technology directly affects this important subsection of recruitment today."
Gampel's presentation will open RecTech 2017, the only EU-based conference specifically for senior executives from every corner of the recruitment technology and staffing worlds. Attendees represents a diverse mix of players in the space, including everyone from digital media companies to employment websites and HR tech providers.
To learn more about RecTech 2017, visit the RecTech site here: https://goo.gl/HbBGrO.
About Recruitics:
Recruitics is the leading recruitment marketing analytics and advertising platform that makes it easy for companies to understand and optimize their job advertising strategies by leveraging real-time data and programmatic technology. Founded in 2012, Recruitics works with the nation's largest employers, staffing agencies, and job boards to drive more applicants to their online job postings, hire great talent, and achieve their recruitment goals. Recruitics also partners with a number of other ATS systems in the US to provide seamless integration and tracking. The company is headquartered in New York City, NY and is privately owned and operated. You can find Recruitics online at http://recruitics.com/ or follow @Recruitics on Twitter.