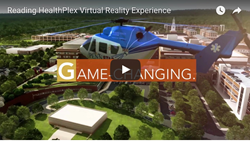 Morristown, New Jersey (PRWEB) May 15, 2017
National industry-leading healthcare marketing awards competition Aster Awards has recognized Trajectory with two GOLD awards for its Virtual Reality healthcare marketing program for Reading Health System and its "We Vs. C" cancer services foundation/fundraising program for RWJ University Hospital Hamilton.
READING HEALTH SYSTEM VIRTUAL REALITY
As part of Trajectory's integrated healthcare campaign promoting the opening of Reading HealthPlex for Advanced Surgical & Patient Care, the agency developed a Virtual Tour video for multiple pre-launch marketing purposes as well as a fully immersive Virtual Reality experience for special applications (i.e. use at events for personal demonstrations with special glasses). Since the facility was still under construction, the Virtual Tour Video and Virtual Reality Experience provided varied audiences (community, physicians and medical practitioners, key stakeholders and influencers) with a preview of what the completed facility had to offer – in a way that was as unique, differentiating and compelling as the facility itself.
Virtual Reality deliverable highlights included VR Microsite, Real-time 3D Simulation, VR Real-time 3D Simulation (optimized version), Virtual 360° Panoramic Video Tour, Virtual Tour Video and Grand Opening Events: VIP Open House, Physician Open House, Community Open House, Employee Drop-In Open House, EMS Open House.
RWJ UNIVERSITY HOSPITAL HAMILTON (RWJBARNABAS HEALTH) PROJECT WE VS. C
This unique two-year healthcare marketing cause campaign combines the healing effects of song, dance, music and the arts – to highlight and support RWJ University Hospital Hamilton (RWJBarnabas Health) Cancer Services program. Fundraising efforts will contribute to a vital $8.5 million, two-year project geared exclusively for enhancements to RWJ Hamilton's comprehensive cancer program.
Given the crowded market filled with many Breast Cancer/fundraising initiatives, the program required an impactful and compelling brand identity, both visual and messaging, to target both the public and potential donors. Trajectory deliverables included program name and logo to umbrella the overall two-year project, long-form writing of brochure materials and solicitation materials for outreach and promotion, development of marketing roadmap and all aspects of launch marketing materials. Success of "We Vs. C" will be measured through funds raised to save more lives through prevention, detection, treatment and ongoing support.
For more information about Trajectory – brand consultancy/marketing agency dedicated to creating the momentum for brands to thrive in today's health + wellness economy – visit http://www.trajectory4brands.com.