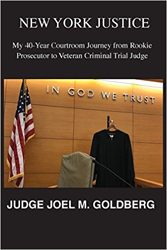 The criminal justice memoir that is flying off the shelves!
New York, NY (PRWEB) May 13, 2017
Boulevard Books announces the publication of New York Justice, a memoir by retired Supreme Court Justice Joel Goldberg, one of New York s most experienced criminal trial judges. The book provides rare insights into the criminal justice system from the point of view of a judge who presided over hundreds of felony trials in Brooklyn and Staten Island.
There are vivid descriptions told in short-story style, of dozens of his felony trials, both convictions and acquittals, including murders, rapes, child abuse, shootings of police officers, armed robberies, burglaries, a fake nursing school, an organized stolen car ring, and even a trial involving an assault on a pet cat. Judge Goldberg also provides a look back to the 1970s when he began his legal career as an Assistant District Attorney in Brooklyn learning how to handle himself in both trial and appellate courts while making his share of mistakes which he recounts with self-deprecating humor.
A recent review of the book by noted Staten Island trial attorney Mario F. Gallucci, published by the Richmond County Bar Association declared, "I loved the book and all the stories. The Judge does a great job of interlacing his experiences as an Assistant District Attorney and showing the profound affect they had on him as a Judge. The book will appeal to not only just lawyers. The Judge does a great job of explaining not only the day-to-day activities of the criminal justice system but also all its nuances in a very reader friendly way."
Reviewing the book in the New York Law Journal Judge Laura A.Ward who sits in the Criminal Term of the Manhattan Supreme Court, wrote, "As (Judge Goldberg) recounts his trial experience, you see the legal process unfold through a judge s eyes. His observations about the way the defense attorneys and prosecutors present evidence and argue the legal issues is instructive as well as interesting. In sum Goldberg's stroll down memory lane is a walk I enjoyed taking with him."
New York Justice is intended to be enjoyed by anyone interested in teaming about the variety of criminal cases being handled in our criminal courts and, as noted by Judge Goldberg, "'to convey a sense of appreciation for the hard work and professionalism that routinely goes into the prosecution and defense of these cases every day" as well as "how the small details of a case often make the difference between a conviction and an acquittal."
The dozens of cases discussed in New York Justice include a murder trial on Staten Island involving a John Gotti associate and information from an informant that a juror might be killed during the trial. In another murder trial the defendant cut his two roommates up with chain saw. The head of one victim was found on a beach in Brooklyn and taken by a detective to New Jersey where it was found to match a headless torso found in a park in an abandoned suitcase. There was another trial involving a serial rapist who actually was a Black Hasidic Jew.
In contrast to these gruesome cases, New York Justice also recounts some of Judge Goldberg's more humorous judicial incidents such as when he needed to call for road service to come to his house to jump start his car and the tow truck driver who arrived happened to have a pending case before him for of all things stealing a tow truck. As Judge Goldberg writes, "Not only did he know know exactly where I lived I had to decide how much to tip him."