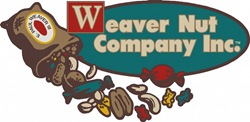 We desire to have even greater tasting chocolates, while keeping pricing competitive...you will see increased efficiencies as well as even better quality formulations leads to an end result of fantastic quality chocolates at a very competitive price
(PRWEB) May 15, 2017
Weaver Nut Company, Inc. is excited to announce the addition of new chocolate production capabilities to their Ephrata, Pennsylvania location. The Ephrata location is well known for its contribution to the Weaver Chocolates line, which consists of premium panned, enrobed, and molded chocolates. As a vertically integrated manufacturer, Weaver Nut Company, Inc. purchases the highest quality ingredients directly from the growers. This allows them to create delicious farm to mouth fresh chocolates in their state-of-the-art manufacturing facility.
Weaver Nut's recent investment in the latest chocolate production equipment allows the company to continue its tradition of delivering the finest quality, premium flavor, and competitively priced chocolates to their clients, always backed by Weaver's 100 percent satisfaction guarantee. The latest additions at the Ephrata facility mean even higher quality, new formulation capabilities, and more luscious chocolates than ever before – created to please chocolate lovers everywhere with indulgent, decadent, smooth, and flavorful chocolate confections.
Weaver Nut's line of premium chocolates includes a grand sampling of distinctive chocolates from the classics like chocolate covered nuts, raisins, malt balls, and advances to the cutting edge, including chocolate covered candy corn, gummies, espresso beans, and other delights. Additionally, Weaver Nut's Premium Chocolates consist of a number of specialty selections featuring nonpareils, dark chocolate orange peels, milk chocolate butter crunch, and other scrumptious pleasures. It is easy to see Weaver Nut Company is passionate about chocolate, artfully designing each delicious bite with quality, integrity, and enthusiasm!
"We desire to have even greater tasting chocolates, while keeping pricing competitive. In fact, you will see increased efficiencies as well as even better quality formulations leads to an end result of fantastic quality chocolates at a very competitive price. Taste the difference for yourself, add our Weaver Chocolates to your next order!" – Edward Weaver, COO Weaver Nut Company, Inc.
Located in lovely Lancaster County, Pennsylvania, Weaver Nut Company began in 1975; built on the foundation of quality, integrity, and enthusiasm that persists today in each and every product offering from chocolates and nuts, to coffees and teas, to nuts and dried fruits, and a vast collection of extraordinary gourmet foods. As a family business, the Weaver Nut Company goal remains the same, "serving customers the way they want to be served."
Weaver Nut Company, Inc. promises the highest quality products from Weaver Chocolates to gourmet foods and beverages sourced from around the globe, always delivered with outstanding customer service and fair, competitive pricing.
Shop today at http://www.weavernut.com and choose your favorites, while saving time and money, by selecting delectable Weaver Chocolates along with tasty nuts, dried fruits, candies, coffees, teas, and gourmet foods from around the world.
Bio: From their home basement, the Weaver Family launched their business more than 40 years ago with the mission to "serve customers as they want to be served with quality, integrity and enthusiasm." Since that time, the company has grown into Weaver Nut Company, Inc. thanks to a fully dedicated team and a vast array of satisfied customers. Today the company includes Food Brokers International, the Amish Maid™ private label, Weaver Chocolates, Land of the Gummies, and Weaver Nut Sweets and Snacks retail and online. Visit http://www.weavernut.com today, choose your favorites, and experience the delectable difference that is Weaver Nut Company, Inc.