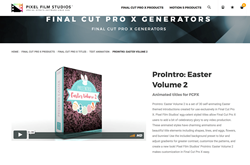 This is a set of FCPX Intros designed for Easter.
Aliso Viejo, CA (PRWEB) May 13, 2017
ProIntro Easter Volume 2 is a set of 30 self-animating Easter themed introductions created for use exclusively in Final Cut Pro X. Pixel Film Studios' egg-celent styled titles allow Final Cut Pro X users to add a bit of celebratory glory to any video production. These animated styles have charming animations and beautiful title elements including shapes, lines, and eggs, flowers, and bunnies! Use the included background preset to blur and adjust gradients for greater contrast, customize the patterns, and create a new look. Pixel Film Studios' ProIntro: Easter Volume 2 makes customization in Final Cut Pro X easy.
ProIntro Easter Volume 2 includes 30 self-animating presets that are made with compatibility in mind. Each design features fundamental title elements that generate a distinct feel from one another. Users can further customize the presets by manipulating certain color wheels and control sliders to create a look all their own.
ProIntro Easter Volume 2 presets are extremely simple to use and extremely practical. Easily adjust position, rotation, and scale of titles using intuitive on-screen controls within Final Cut Pro X. Utilize sliders that are located in the top-right inspector window to manipulate the spread of title elements. Finally, stylize the text by simply toggling on the "Editable" checkbox.
ProIntro Easter Volume 2 included a background preset that allows users to tint the media below ProIntro presets using a simplistic color wheel. Additionally, blur controls are provided to allow editors to achieve greater contrast between title elements and the scene below. In addition to the generic background preset, an Easter themed customizable background has also been provided.
ProIntroEaster Volume 2 has been made exclusively for use in Final Cut Pro X. Simplistically manipulate these egg-citing, self-animating titles using on-screen controls and slider controls found within the FCPX inspector window. Apply ProIntro: Easter Volume 2 with drag and drop ease to add a "hoppy" feeling to any video production.
Established in 2006, Aliso Viejo, California-based Pixel Film Studios is an innovative developer of visual effects tools for the post-production and broadcast community. Their products are integrated with popular non-linear editing and compositing products from Apple FCPX. Apple, the Apple logo, Mac OS X, and Macintosh are registered trademarks of Apple Inc. in the U.S. and/or other countries. All other trademarks and trade names are the property of their respective owners.