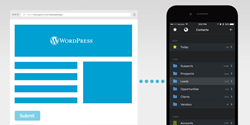 Gro CRM is the Mac CRM small business platform designed exclusively for Apple iPhone and iPad. Gro CRM is helping transform small businesses around the world
San Francisco, CA (PRWEB) May 16, 2017
Gro Software today introduced a Contact-to-Leads WordPress plugin. Gro CRM is the Mac CRM small business platform designed exclusively for Apple iPhone and Apple iPad. Gro CRM is helping transform small businesses around the world with their easy to use customer relationship management platform built for the Apple small business market.
The Gro CRM Contacts-to-Leads WordPress plugin allows you to convert your WordPress website contact forms into leads that get inserted into your Gro CRM account automatically. No more copying, pasting lead info, no more missing leads; each and every lead is captured and stored in your Gro CRM account for you to follow up with at your convenience.
Gro CRM captures your WordPress website contacts and gives you the customer relationship management tools you need to maintain and grow those newly acquired leads into lifetime customers.
Gro CRM's Mac CRM small business platform includes both customer relationship management (CRM) and enterprise resource management (ERP) features and functionality. Core Gro CRM features include a real-time sales dashboard, contact and account customer relationship management, opportunity management, task management, quotes and invoicing and inventory and order management. Additional features include email integration, receipt expense report tracking, sales reporting and analytics, credit card processing and many more features.
Pricing and Availability
The Contact-to-Lead Gro CRM WordPress plugin is available immediately through wordpress.org. The download is free but requires a subscription. Gro CRM subscriptions start at $14.99 USD per seat/month.
About Gro Software
Gro Software is the developer of Gro CRM. Gro CRM is the Mac CRM Sales Platform that is empowering the Apple small business market with the Mac CRM software tools they need to grow and succeed. Headquartered in San Francisco, California, Gro Software is founded by a dedicated team of Apple developers, ex-Apple employees and Mac CRM experts.
For more information, please visit https://www.grocrm.com
All Material and Software (C) Copyright 2017 Gro Software LLC. All Rights Reserved. Apple, the Apple logo, iPhone, iPod and iPad are registered trademarks of Apple Inc. in the U.S. and/or other countries. Other trademarks and registered trademarks may be the property of their respective owners.