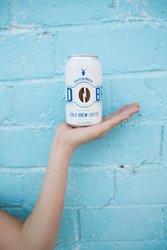 Handcrafted, and nitrogen-infused, Dutch Bros Cold Brew Coffee officially launches on Friday, May 19.
GRANTS PASS, Ore. (PRWEB) May 15, 2017
Friday, May 19, marks the official launch of Dutch Bros' Nitrogen-Infused Cold Brew Coffee.
On Friday, all Dutch Bros locations will have Cold Brew Coffee available for purchase. Dutch Bros Cold Brew Coffee is made from the company's private reserve, three-bean blend and water. It is nitrogen infused, and contains no added sweeteners.
"I am biased, but this is the best cold brew on the planet," says Travis Boersma, President and Co-Founder Dutch Bros Coffee.
Handcrafted and chilled from beginning to end to ensure consistency and flavor, Dutch Bros Cold Brew Coffee stays refrigerated from production to the customer's hands. Dutch Bros Cold Brew is bottled in 11.5-oz. nitrogen-infused cans enabling customers to purchase this ready-to-drink product and drink it at their own leisure while on the go, at work or at home.
The nitrogen infused cold brew is not only loaded with caffeine, but also has numerous benefits. Dutch Bros Cold Brew Coffee is amped up with more caffeine than a typical quad shot of espresso, this is due to the Cold Brew process, coffee being steeped with cold water over a long period of time, instead of the typical hot water steep, which dilutes the caffeine content in espresso. Cold Brew Coffee is also sugar-free, as it is comprised of coffee and water only. Cold Brew Coffee is high in antioxidants, as well as low in acidity.
Dutch Bros Cold Brew can be enjoyed straight from the can or over ice. In true Dutch Bros fashion, its Cold Brew is completely customizable with flavors and milk.
Dutch Bros Cold Brew is of highest of quality due to its use of Dutch Bros private-reserve with beans from Brazil, Colombia and El Salvador. Beans are roasted individually, in Grants Pass, Ore. then blended together to further ensure freshness and quality. The nitrogen infusion enables Dutch Bros Cold Brew Coffee to be creamier and richer than other Cold Brew products because nitrogen does not easily dissolve in water, leading Dutch Bros Cold Brew to be more velvety in nature.
###
About Dutch Bros Coffee
Dutch Bros Coffee is the country's largest privately held, drive-thru coffee company, with over 280 locations and over 7,000 employees in seven states.
Dutch Bros serves specialty coffee, smoothies, freezes, teas and a private-label, Dutch Bros Blue Rebel energy drink.
The rich, proprietary coffee blend is handcrafted from start to finish. Every ingredient is measured, every process timed, and every cup perfected.
With a mission to serve as a role model in they community committed to doing the right thing, Dutch Bros donates over $2 million annually to nonprofit organizations and local causes selected by local owner-operators.
Dutch Bros Coffee is headquartered in Grants Pass, Ore., where it was founded in 1992 by Dane and Travis Boersma, brothers of Dutch descent.
To learn more about Dutch Bros, visit http://www.dutchbros.com, like Dutch Bros Coffee on Facebook or follow @DutchBros on Twitter.