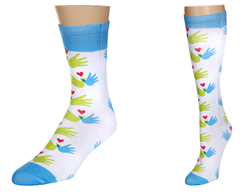 I was so happy when John and Mark said they could make a Williams Syndrome Awareness Sock
Melville, NY (PRWEB) May 15, 2017
John's Crazy Socks has released a series of Williams Syndrome Awareness Socks. These beautiful socks feature the blue and green hands and red heart that symbolize Williams syndrome (and is part of the WSA logo), against a white background. The company will donate $2 from the sale of each pair to the Williams Syndrome Association.
John Cronin, co-founder of John's Crazy Socks, is a 21-year-old man with Down syndrome. He says, "I want people to know about Williams syndrome, what people with Williams syndrome can do, and the challenges they face."
The idea for the Williams syndrome awareness sock came from a Long Island Mom, Kelly Dombroski, whose son Tyler, 17, has Williams syndrome. She heard about John's Crazy Socks and the awareness socks and asked the company to create a sock. Kelly says, "People with Williams syndrome face many challenges and shining a light on the condition will help everyone. I was so happy when John and Mark said they could make a Williams syndrome Awareness Sock."
Jennifer O'Byrne, the volunteer and event coordinator at the Association, says, "We're very excited for the release of these awareness socks. Part of our mission includes increasing awareness and understanding of Williams syndrome. And the donation will enable us to do more for our individuals and their families."
What is Williams syndrome?
Williams Syndrome (WS) is a genetic condition that is present at birth and is characterized by medical problems, including cardiovascular disease, developmental delays and learning challenges. At the same time, people with WS often display striking verbal abilities, highly social personalities and an affinity for music. WS affects 1 in 10,000 people worldwide including an estimated 25,000 to 30,000 people in the United States. It occurs equally in both males and females.
The Connection of John's Crazy Socks with Williams syndrome
Down syndrome, which co-founder John Cronin has, shares many similarities with Williams syndrome including cardiac issues, developmental delays and learning disabilities. Like children with Down syndrome, children with Williams syndrome tend to be social, friendly and endearing. Every day, John demonstrates what a person with disabilities can do: he helps lead his business, works hard within that business and serves as the public face of the business. It is only natural for us to raise awareness of Williams syndrome.
John's Crazy Socks and their Awareness Socks
John's Crazy Socks is committed to demonstrating what is possible for people of all abilities. The company also has a core value of giving back. It donates 5 percent of earnings to the Special Olympics and has a series of Awareness Socks. The Down Syndrome Awareness Socks raise money for the National Down Syndrome Society and ACDS. The Autism Awareness Socks raise money for Autism Speaks and the Autism Society of America (Nassau/Suffolk Chapter).
John's Crazy Socks offers other charity socks that raise money for breast cancer research, the Special Olympics and the Whaling Museum of Cold Spring Harbor, NY. Each month, the company publishes its Giving Back Report to let customers know about its charitable activities.
About John's Crazy Socks
John's Crazy Socks was co-founded by the father/son team of Mark and John Cronin. John says, "We have a mission to spread happiness through socks." They opened their online store on December 19, 2016 and have managed to grow the company rapidly and have shipped more than 16,000 orders in less than five months.
Mark X. Cronin says, "We offer over 1,200 different socks that people can love: beautiful, colorful, fun and crazy socks that let people express their passions and personalities. We deliver the socks through fast and personal service and every package includes some candy and a thank you note from John." The company ships world-wide, but John still makes personal local deliveries. John says, "I like to meet our customers and make them happy."
John's Crazy Socks has garnered media attention from ABC News, Money Magazine, The Mighty and Fox-5NY among other media outlets.
About the Williams Syndrome Association
The Williams Syndrome Association (WSA) is the most comprehensive resource for people and families living with Williams syndrome as well as doctors, researchers and educators. The WSA provides resources, support and the latest medical information to help people with Williams syndrome and their families.
You can learn more about John and John's Crazy Socks at our website and on Facebook, Instagram and Twitter. You can subscribe to John's videos on our YouTube channel.