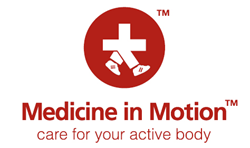 Athletes looking for new experiences or to stretch their competitive muscles should consider trying a tri.
Austin, Texas (PRWEB) May 17, 2017
Medicine in Motion is proud to announce it will provide medical coverage during the Life Time CapTexTri on Monday, May 29, 2017. The triathlon begins with a swim in Lady Bird Lake, followed by cycling through downtown Austin, and concludes with a run through Butler Park and the Palmer Events Center.
"Triathlons come in different sizes," said Dr. Martha Pyron, Austin sports medicine doctor and owner of Medicine in Motion. "Sprint triathlons typically include a half mile swim, 12 mile bike ride and 5k run. Olympic triathlons are basically double that. And the big daddy Ironman race consists of a 2.4 mile swim, 112 mile bike ride and 26.2 mile run."
Dr. Pyron continued, "Our team is the primary medical provider for the majority of triathlons in the greater Austin area, so we've seen and treated almost every type of triathlon-related injury. Triathlons are generally very safe and athletes typically incur few injuries—with proper training and preparation, anyone can participate successfully."
During training, overuse injuries such as tendinitis and stress fractures are common but can be avoided with a proper training schedule and coaching.
During race day, first-time event swimmers may have some anxiety. Sometimes this is severe enough to stop them from competing. However, the more open-water swims attempted in advance of the event, the less likely this will occur. Other swim injuries include trauma from being accidentally kicked in the water and even near drowning if the event is too crowded or there is tumultuous weather.
The cycling portion of the race is hallmarked by problems related to bike accidents. Commonplace injuries include concussions, broken collar bones and wrists, and a lot of "road rash"—the scraped skin seen after skin and road come into contact during a fall.
The run is generally the safest part of the day. However, it also occurs last and, therefore, in the warmer weather. Heat illness and dehydration can happen during this part of the race. Sometimes IV fluids are necessary to bring the athlete back to good health. Rarely, underlying heart problems present during the run portion of the event.
Despite the possible injuries, triathlons are safe and fun for participants. Athletes looking for new experiences or to stretch their competitive muscles should consider trying a tri. The triathlon season finishes in October, so don't delay—look for a race that fits your schedule and give it a "tri!"
Medicine in Motion (MIM) specializes in providing top quality sports medicine in Austin, Texas, for athletic individuals of all ages and levels. The staff at MIM believes active bodies are healthy bodies, therefore it is the office's goal to keep patients energetic and fit. To that end, MIM provides treatment of injuries and illnesses, including the use of physical rehabilitation; promotes healthy living with personal training and nutrition coaching; and offers comprehensive sports medicine evaluations to optimize health, activity level and sports performance. For more information or for questions regarding sports medicine in Austin, contact Medicine in Motion at 512-257-2500 or visit the website at http://www.medinmotion.com.