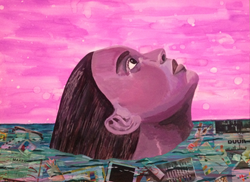 The duo brings about some of their works celebrating Mother's Day all through this month
Milpitas, California (PRWEB) May 16, 2017
Current artist in residence Sujata Tibrewala describes herself as an eco feminist artist and themes such as motherhood, womanly duties, societal expectations and patriarchy form a common and continuing thread in her art works.
Her daughter Pankhuri Kohli is a budding artist who brings along elements of youth, promises, exploration and an unending dialogue with the self in her artworks.
The two artists with different visions of the world come together this Mother's Day not only to celebrate their own special bond but to visualize how mothers and daughters around the world though differing in outlook converge on themes such as caring, loving and unconditional support.
The duo brings about some of their most special works that tell a tale of a life period or signify the milestones achieved together in a special exhibit that celebrates Mother's Day all through this month.
Amongst the featured works is Ms Tibrewala's acrylic on canvas painting titled Playdate, where she has painted a portrait of her daughter as a young girl to immortalize her growing up years. For Ms Tibrewala the happy, carefree smile on a child's face during their growing up years is the emotion a mother always wants to see on their children. To complete the cycle of generations one of her other artworks featured in the exhibit titled Hope is an ode to her own mother.
The artist recalls the time where her mother hoped to see her own dreams getting realized through her daughter. The artists' mother hoped that her daughter would fight the odds on her way to realize her dreams and create an individual identity for herself.
Ms Tibrewala feels proud that today her life's lessons for her own daughter and other young girls have changed a little. Fiercely confident with their gender identity the girls today no longer feel that achieving anything would be impossible for them.
Interestingly this is the emotion that is clearly displayed in young Pankhuri Kohli's works. There is an explorative quality about her works where the characters in her paintings are aiming at limitless ambitions. An artwork depicting her looking out of the window into the unending possibilities the world has to offer sums the energy and confidence of youth. Another artwork titled Rising also conveys the same emotions. A girl seen rising above the water floating effortlessly depicts that no force is too strong to drown a strong will.
Ms Kohli, had an impressive run last year when with her debut show organized along with her mother at Santa Clara she was able to raise $1000+ for West Valley Community Services, an organization providing resources to the homeless in Santa Clara County.
About the artists:
Pankhuri Kohli: A Bay Area resident, Pankhuri Kohli is a student and an emerging artist who pursues art as a hobby and a philanthropic activity. During her school years she has volunteered with various organizations aiding the homeless and is also the recipient of Presidential Volunteer Service Silver Award 2016. Last year with her debut showcase and online efforts she raised funds for West Valley Community Services, Inc. (WVCS), a private non-profit, community-based agency that has been providing direct assistance to the west valley communities of Santa Clara County.
Sujata Tibrewala: A self-taught artist come engineer Sujata Tibrewala has exhibited her artworks in some of the most reputed venues around the globe such as University of Illinois, Chicago, Raw San Jose, Parallax Art Fair London, the Regional Commission of Arts St Louis, Life Force Arts Chicago, Mindworks Gallery Chesterfield, St. Louis Artists' Guild, Chesterfield Arts, Art World Association, Women's Caucus for the Arts, MySLART and Lalit Kala Academy, Delhi.She shifted to the USA in 2010 from India and practices her craft and conducts art workshops at Bay Area, CA, where she resides presently.