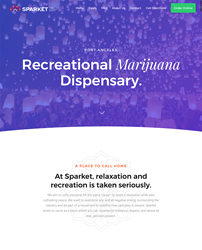 We are pleased to announce the launch of our new website, live menu, online pre-ordering system and customer loyalty program. We pack for a quick, discreet pick up with no waiting in line. We sincerely hope you enjoy these new comforts!
Port Angeles, Washington (PRWEB) May 26, 2017
Sparket, one of the most popular cannabis dispensaries in Port Angeles, is pleased to announce the launch of its new website at http://www.sparketrnr.com. The new website incorporates Sparket's updated branding, and enhanced features such as a new menu and online ordering.
Sparket prides itself on providing family-style customer service and a welcoming environment for all who enjoy cannabis. The newly enhanced website delivers on Sparket's commitment to providing the highest quality products and service to its loyal customer base. Patients can now shop effortlessly online for a wide variety of the highest quality cannabis products.
New Features
Sparket prides itself on providing customers the highest level of care and attention. The new website will enable customers to enjoy an even more personalized experience that extends beyond the store. The sites new features include:
New Design: The website was built with desktop and mobile users in mind. Easily browse through the website, blog, and menu from any device.
New Brand: Sparket transitioned to a new brand, logo, and color theme which is reflected throughout the website. Enjoy the warm and vibrant colors as your browse through the site.
Digital Menu: Customers can shop live inventory from the comfort of their home using the newly integrated menu from Baker.
Online Ordering: Customers can now browse the menu and reserve product online. Once the order is placed, a budtender will prepare your order and have it ready for in-store pickup.
What Are Customers Saying?
Sparket customers enthusiastically share their experiences and heartfelt testimonials across social media channels such as Facebook. "[The] most caring group of professionals in the industry," writes Kit Zera.
"The best people you'll ever want to meet. Highest quality flower and a caring and knowledgeable staff," says John Smith, another loyal patron. "Nick and Wendy are the best!!"
Sparket is located at 1215 E Front St Port Angeles, WA 98362. Hours of operation are Monday – Saturday: 8AM –10PM and Sundays: 10AM – 8PM.
About Sparket
Sparket is the premier retail adult-use recreational marijuana dispensary on the Olympic Peninsula. All marijuana products are tested and top quality as seen in the online menu. Sparket offers a wide range of sativa, indica, and hybrid flower products. For other forms of consumption, Sparket also offers concentrates, edibles, extracts, pre-rolls, drinks, topicals, tinctures, vape cartridges, and more!