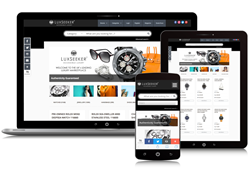 LuxSeeker.com passionately believes that we can enable more of the population to attain the products that they aspire at prices that will surprise them
London, United Kingdom (PRWEB UK) 17 May 2017
The LuxSeeker luxury marketplace has brought together a strong collection of premier luxury retailers and specialist independents offering the finest pre-owned and new branded luxury goods available covering luxury watches, jewellery, shoes, handbags, prestige cars and boats.
The luxury buyer can browse, find and be inspired all in one place from Vestiaire Collective, Goldsmiths and Shoeaholics to specialists from Hatton Garden such as Bouchon and Prestige Pawn Brokers.
LuxSeeker.com integrates detailed buyer guides, trends and fashion news, plus the best of social media photos and videos to provide the buyer with an educative and inspired buying experience. The LuxSeeker.com recommendation engine will be crunching over 1,000 data points to deliver recommendations, curations and alerts across media platforms and social channels ensuring "LuxSeekers" are aware of the latest news around their favourite luxury products.
The key differences of LuxSeeker.com to the likes of Amazon and Ebay are that firstly all retailers are carefully selected to ensure the authenticity of all products for sale, so customers can purchase safe in the knowledge that they are buying genuine, authentic items from trusted sellers. Secondly, there are no private sellers or 'home traders'. Private sellers are actively encouraged to place their luxury goods with the specialist retailers who are listing to get a great hassle free, price and service.
Furthering LuxSeeker.com's strong credentials, the online platform will also pass on the details of enquirers to the merchants giving the opportunity for direct dialogue with the customers via their own selling channels be it conversation or via digital engagement.
Lee Williams, lead investor of LuxSeeker.com, knows a few things about establishing successful online marketplaces. In the 90s he launched and built the highly successful Auto Trader online, and recently established Haymarket's PistonHeads.com motoring community as the number two motoring marketplace in the UK.
Williams believes 'LuxSeeker.com can make the luxury online marketplace more accessible, in particular we want to unlock all the amazing products and content stocked by both the major retailers and crucially all the independents from across the county into one specialist hub. LuxSeeker.com passionately believes that we can enable more of the population to attain the products that they aspire at prices that will surprise them.'
Williams continues, "We are launching the first phase with 100,000 luxury products. Response from the luxury trade has been fantastic. We will be rapidly adding products, content and engaging consumer and retailer features month on month. This time next year we expect to list over 1m products and services on the LuxSeeker luxury marketplace."