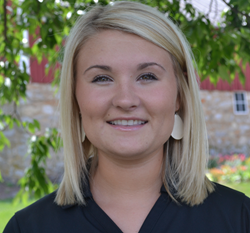 I'll also be focused on building awareness so more people take advantage of the benefits of our programs, and increasing our engagement with farmers and consumers
(PRWEB) May 16, 2017
Farm Credit of the Virginias (FCV), a customer-owned financial cooperative, today announced that Kyley Clevenger has been named Director of the FCV Knowledge Center, which provides resources and education about agriculture to local farmers and the community.
Clevenger, a Virginia native raised on a family farm, joined FCV as Knowledge Center Relations Specialist when the initiative was launched in 2013; she succeeds Matt Lohr, who has successfully led the Knowledge Center for the past four years. Prior to joining FCV, she worked to promote local farm-to-table businesses, and before that helped launch a small Virginia dairy operation.
"Kyley has an incredible ability to relate to and work with people, building strong relationships with customers, potential customers and the industry organizations we work with," says Bette Brand, FCV's Chief External Affairs Officer who was recently named Chair of the Virginia Agribusiness Council. "She also has insight into the information consumers are looking for, and is adept at connecting with them and helping them understand more about agriculture."
In her new role, Clevenger will lead the Knowledge Center as it continues to develop relevant online and in-person resources and educational programming to support farmers and the public across FCV's footprint. The most recent resource launched was a video series explaining the construction loan process for people planning to build their own homes.
"I'm excited to strengthen the relationships we've already established with our customers, the public and other industry leaders, and working with them to identify new opportunities to develop resources to support their needs," Clevenger said. "I'll also be focused on building awareness so more people take advantage of the benefits of our programs, and increasing our engagement with farmers and consumers."
Clevenger holds a bachelor's degree in Agriculture and Applied Economics from Virginia Tech.
About Farm Credit of the Virginias
Farm Credit of the Virginias provides over $1.8 billion dollars in financing to more than 11,000 farmers, agribusinesses and rural homeowners throughout Virginia, West Virginia and western Maryland. Farm Credit is a cooperative capitalized largely through investments made by farmers, ranchers and the rural homeowners and businesses that borrow from them. In fact, as part of a nationwide network they are the largest single provider of agricultural credit in the United States and have been for 100 years. Farm Credit helps maintain and improve the quality of life in rural America and on the farm through its constant commitment to competitive lending, expert financial services and for facilitating and sharing knowledge and resources through the Farm Credit Knowledge Center. For more information, visit http://www.FarmCreditKnowledgeCenter.com or http://www.FarmCreditofVirginias.com.