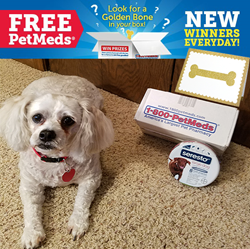 "What a delightful surprise..." ~ Golden Bone PetMeds Giveaway Winner Barbara Bohn (and dog Jassie)
Delray Beach, Florida (PRWEB) May 16, 2017
More than 20 years ago, 1-800-PetMeds® began a journey with a purpose: to provide significant savings to pet parents on the medications and supplies they need to provide quality care to their beloved pets. Today more than ever, pets are considered to be members of the family. As such, pet parents want to give them the best quality of health care they can afford.
Unfortunately, with the cost of prescription medications on the rise, many pet parents are struggling to cover these costs. That's why 1-800-PetMeds® continually provides customers with new ways to save on prescription pet medications, over-the-counter medications, food, and supplies. One of their most popular promotions has been the Golden Bone Pet Meds Giveaway.
The Golden Bone Pet Meds Giveaway was introduced in February 2017, surprising one customer a day with something special accompanying his or her order. One daily winner found a hand-written Golden Bone card inviting them to enjoy their order "on the house." The winner simply had to email back a photo of their pet with the 1-800-PetMeds® box (along with the order number) for a full reimbursement.
Needless to say, winning customers were thrilled to learn that the cost of their pet's medications and supplies would be paid for by 1-800-PetMeds®. Winner Barbara Bohn wrote: "What a delightful surprise to read your note enclosed with our 1800PetMeds order! We always appreciate 1800PetMeds' expedient service. Thanks again for the surprise refund." Barbara's order for her dog, Jassie was promptly refunded.
The 1-800-PetMeds® Golden Bone Pet Meds Giveaway runs through the end of June. Everyone who places an order from May 15-June 30, 2017 is eligible to win. The Golden Bone card is randomly included in one outgoing package each day. Those 1-800-PetMeds® customers who find a Golden Bone card are asked to respond with their order number for reimbursement of their entire purchase. A photo of their furry friend with the 1-800-PetMeds® box is also requested to be added to the Golden Bone Pet Meds Giveaway winners page. Place an order with 1-800-PetMeds® anytime between May 15,2017 and June 30, 2017, and it could be yours at no cost!
About 1-800-PetMeds®
Founded in 1996, 1-800-PetMeds® is America's Largest Pet Pharmacy® and Vet-VIPPS accredited, delivering prescription and non-prescription medications, and pet supplies for less, direct to the consumer through its 1-800-PetMeds® toll free number and on the Internet through its website.