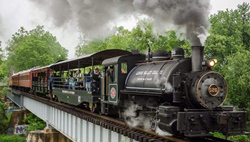 "We are excited to welcome back the Gramlings and Sadie to the Walkersville Southern Railroad," Brooke Kovalcik, General Administrator for WSRR
Walkersville, MD (PRWEB) May 16, 2017
Families will once again get a chance to begin their summer with a journey into the past when Walkersville Southern Railroad (WSRR) hosts the 86-year-old steam engine officially known as Lehigh Valley Coal Co. #126, but affectionately named "Sadie". The restored coal-fired steam engine is one of Gramling Locomotive Works' (GLW) "Ambassadors of Steam" and will afford patrons the opportunity for a real old-fashioned ride behind a genuine antique.
Sadie was originally built in 1931 by Vulcan Iron Works, the same manufacturer of her brother Hank, and was sold to the Lehigh Valley Coal Company of Hazleton, PA. In 1954, it was sold to the Heidelberg Coal Co. of Avoca, PA, where it remained in service for a number of years until it was then sold to John Bauman, a scrap dealer, in Carbondale, PA. He housed it at the D&H roundhouse, where it remained until it was bought by GLW in 1993.
Gramling Locomotive Works is operated by father and son team John and Byron "Barney" Gramling, who travel nationwide with their restored steam locomotives. "We have met so many wonderful people," says John. "It is rewarding to me to be able to help others learn about and enjoy a disappearing piece of history." The locomotives are transported to various events around the country on a truck using a special heavy equipment lowboy trailer.
"We are excited to welcome back the Gramlings and Sadie to the Walkersville Southern Railroad," said Brooke Kovalcik, General Administrator for WSRR. "The steam excursions are very successful. We're fortunate to be hosting this unique running steam train event that is within an hour's drive of Baltimore and Washington, D.C., making this an unforgettable event for all ages."
Sadie the Steam Engine will operate on three consecutive weekends: May 20 and 21; May 27, 28 and Memorial Day; and June 3 and 4. Departures are at 11 a.m., 1 p.m., and 3 p.m. Total trip time is approximately one hour and ten minutes. Tickets for the steam train excursions are $15 for adults, $14 for seniors, and $12 for children ages 1-12 (babies under age 1 ride free).
WSRR has scheduled special events in conjunction with Sadie's visit. The 2-hour Railfan Event includes a venture north between Walkersville and Woodsboro, as well as photo run-by opportunities. Passengers will be able to disembark at two separate stops in order to take pictures or video of the train passing slowly behind them. Railfan tickets are $20 each rider and will be held on May 20 and June 3 departing at 5pm.
Civil War buffs will want to come out on May 20th to see Union and Confederate Army re-enactors skirmish on the train and along the tracks. Be a part of the fun, which will culminate in a mock battle at the Walkersville Community Park.
If the Wild West sparks your interest, joins us on May 27th for Jesse James Day. Jesse and his gang ride once more! Expect an Old West raid on the trains. We'll supply the loot for the robbery, and be aware that there will be the sound of gunfire.
Trains will run rain or shine. Reservations can be made online at http://www.wsrr.org, or by calling 301-898-0899.
About Walkersville Southern Railroad – WSRR began as a volunteer endeavor to restore the tracks between Walkersville and Frederick. In 1993, the State of Maryland chose WSRR to operate this section of tracks, and three years later, trains began crossing the Monocacy River for the first time in over twenty years. Since then, operations have expanded to include the Walkersville Railroad Museum, regular weekend excursions from May through October, and special events such as Dinner Trains, the Birthday Caboose, and Holiday Trains. For more information, please visit http://www.wsrr.org.