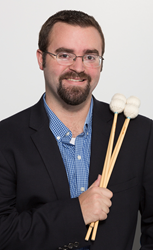 "Working with the world's largest music product manufacturer is an exceptionally rare opportunity for anyone starting out in the music products industry, and this internship will be rich with unique experiences and learning opportunities." - Troy Wollwage
BUENA PARK, Calif. (PRWEB) May 15, 2017
Yamaha Corporation of America, Band and Orchestral division, has selected University of Central Florida graduate Nic Cabiness as the 2017 intern for its renowned percussion internship program.
Cabiness was selected from a national pool of talented and accomplished applicants to provide marketing and artist relations support for its world-class percussion products. Cabiness has relocated to the company's headquarters in Buena Park, California for the duration of the internship, which runs through June.
A native of Panama City, Florida, Cabiness graduated from A. Crawford Mosley High School in 2010. He received a Bachelor of Music in Music Education from the University of Florida in 2014, and received his Master of Arts in Music with a focus on Percussion Performance from the University of Central Florida in 2016. At both UF and UCF, Cabiness has participated in university-wide ensembles, percussion ensembles, symphony orchestras, various chamber performances and the UF Gator Marching Band.
Prior to working with Yamaha, Cabiness was the Graduate Assistant and Percussion Instructor at the University of Central Florida Marching Knights where he wrote halftime arrangements and oversaw weekly rehearsals for the percussion section. He has performed with the New Score Chamber Orchestra, the Space Coast Symphony Orchestra, the Panama City POPS Orchestra and the Phi Mu Alpha Sinfonia National Convention Wind Ensemble, and has served as guest performer with the U.S. Army Field Band.
In addition, he is a member of the Florida Bandmasters Association, Florida Music Educators Association, Phi Mu Alpha Sinfonia, the National Association for Music Education and the Percussive Arts Society.
"Nic brings a wide range of percussion expertise to our intern program at Yamaha, and we're glad to have him on board," says Troy C. Wollwage, percussion marketing manager, Band & Orchestral division, Yamaha Corporation of America. "Working with the world's largest music product manufacturer is an exceptionally rare opportunity for anyone starting out in the music products industry, and this internship will be rich with unique experiences and learning opportunities."
"I am honored to have been chosen to work as an intern with the Yamaha percussion team, and grateful for the opportunity to contribute to the success of the company," said Cabiness.
The Yamaha Band & Orchestral division is responsible for marketing, sales and research, and development for strings, wind instruments, concert and marching percussion, in addition to education initiatives for school music programs throughout the United States.
For nearly 30 years, Yamaha has remained committed to training and supporting people interested in building music-related careers. Many former Yamaha interns now hold fruitful positions throughout the music products industry, including at instrument manufacturers, dealers, drum corps, media and other music education outlets.
Additional information about Yamaha Corporation of America is available at http://4wrd.it/YAMAHAUSA.
-END-
About Yamaha
Yamaha Corporation of America (YCA) is one of the largest subsidiaries of Yamaha Corporation, Japan and offers a full line of award-winning musical instruments, sound reinforcement, commercial installation and home entertainment products to the U.S. market. Products include: Yamaha acoustic, digital and hybrid pianos, portable keyboards, guitars, acoustic and electronic drums, band and orchestral instruments, marching percussion products, synthesizers, professional digital and analog audio equipment, Steinberg recording products and NEXO commercial audio products, as well as AV receivers, amplifiers, MusicCast wireless multiroom audio systems, Blu-ray/CD players, earphones, headphones, home-theater-in-a-box systems, sound bars and its exclusive line of Digital Sound Projectors. YCA markets innovative, finely crafted technology and entertainment products and musical instruments targeted to the hobbyist, education, worship, music, professional audio installation and consumer markets.