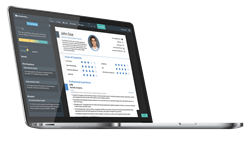 (PRWEB) May 17, 2017
There have been lots of discussions whether the Content of your résumé or the Layout is critical in receiving lots of interview calls.
Extensive research was conducted in order to find out what the opinion of recruiters and employers from different countries regarding this subject is.
The conclusions and essential points could be summarized to the following:
When looking at the overall idea of what a résumé is, people agree with the metaphor that it is similar to a puzzle, where different parts such as Work Experience, Skills, Education, etc. need to come together in order to offer an overview of the person. Similar to puzzles, the layout is only half of what it matters, recruiters and employers also wish that the content inside of it to be qualitative, concise and relevant to the specific position.
The design of the layout depends very much on the particular industry or company people are applying for. The résumé templates developed by Novorésumé range from Classic to Creative; meaning that in more traditional industries such as Banking or Law, people are encouraged to use a more Classical approach with darker colors; whereas when applying to start-ups or creative industries it is recommended to have a more Creative approach.
It was discovered that a very structured and well-organized layout would increase the chances of the recruiter reading the application with more attention. But if the content is not professional and easy to read, the reader will shortly lose the interest. Therefore, it is recommended to use shorter paragraphs or sentences; and for example begin each achievement of a previous job with an action verb and include whenever possible numbers and percentages.
In order to help the users improving their content as suggested by HR experts and employers, a content optimizer was created that will automatically scan and provide professional tips and revision ideas to increase the quality of content.
"For example, it was observed that many users do not include their Professional Title or the list of their skills when creating their application, which is crucial information that recruiters and employers need to know. Those keywords and information are especially important when the application is being scanned by an ATS software. Also, when including their contact details many users are writing just their Facebook profile as an online presence, but it is strongly recommended to better include your LinkedIn for all the professions, Twitter if you are applying in for a job where communication is really important or GitHub when applying in the IT industry." - Stefan Polexe - CEO & Head of Development
With the latest updates, the résumé builder will make sure to help users creating an eye-catching résumé, but also guiding them through the process with professional tips and examples that will dramatically increase the quality of their content.