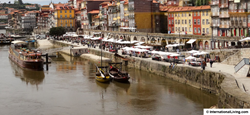 Without the tether of jobs to report to, these vagabonding retirees enjoy the freedom to travel at any time and at any pace, which proves to be valuable leverage in keeping costs down.
Baltimore, MD (PRWEB) May 15, 2017
It's not unusual for retirees to enjoy traveling in their post-work lives. But more and more, adventuresome Baby Boomers are turning an itch to globetrot into a way of life.
Armed with slow-travel strategies that save money and provide richer on-the-ground experiences, retirees are doing more than simply vacationing abroad.
They've created roving retirements... traveling slowly through a year or more and spending less to see the world than they would to stay home.
Without the tether of jobs to report to, these vagabonding retirees enjoy the freedom to travel at any time and at any pace, which proves to be valuable leverage in keeping costs down.
Some might cruise to Europe for up to 70% off standard prices and then spend a month living the high life in Paris. To offset the splurge: they might spend two months savoring all affordable Portugal has to offer. Instead of hotels, they organize low-cost, luxurious accommodation for a few weeks or months at a time—long enough to try a place on for size before moving on to explore another destination.
"These roving retirees are combining a sort of old-world 'grand tour' with slow-travel techniques that allow them to wander from country to country for months, even years at a time—remarkably affordably," says Jennifer Stevens, executive editor of International Living.
"It's an overseas retirement with a twist. They needn't worry about jumping through visa hoops or trying to decide where they want to live for the rest of their lives. They can simply try a place on for size on a short-term tourist visa and then move along when they feel like it," Stevens says.
"It's a great way to test-drive an overseas retirement and—for many folks—it fulfills a lifelong dream of seeing the world. Yet, done right, it won't break the bank."
Here are five proven slow-travel strategies adventure-minded retirees are using to live overseas—and explore the planet—on the cheap:
Housesitting: Great Accommodation—For Free
Housesitting can be a great way to offset accommodation costs.
Yvonne and Michael Bauche retired early and have been doing this for years. They have lived in countries all over Central America and Europe for months at a time and found their monthly expenses half of what they spent at home in Canada.
Neither Yvonne nor Michael qualified for a pension in Canada. And so the adventurous duo decided to embark on a round-the-world trip that has seen them visit Belize, Guatemala, Honduras, Portugal, Italy, France, and the Caribbean.
"We cut our expenses in half," says Yvonne of their new life on the road. "Running two cars, paying for electricity, gas, phone, cell phone, internet, food, and eating out used to cost us almost $4,000 a month. Our average expenditure is now about $2,000, and we live and play very well on that."
"Housesitting is the key to our lifestyle," Yvonne says. "Over the last few years we have housesat in a 15th-century home in London, a Tuscan farmhouse, a French vineyard, a Spanish casita, a luxury villa in Costa Rica, deep in the Belizean jungle, and in several ocean-view villas in the Caribbean. We estimate we have saved over $150,000 in accommodation costs by housesitting and have gained unique insights into different retirement lifestyles."
Home Exchange: Swap Homes With Like-Minded Travelers
House swapping or home exchanges have been around for a while. Nowadays there are several websites offering the service where like-minded people swap their homes, often including use of a car.
There is a small fee to access home-exchange services—the average is $9.95 a month—but savings on a typical exchange can add up to thousands of dollars.
International Living Malaysia correspondent, Keith Hockton, has swapped his home many times in the past. "I wondered if it was safe," Keith says. "Now, after several swaps of my own, I know it is. The exchange company we've used happily has been in business for 19 years. After tens of thousands of exchanges, it has never had a report of theft, vandalism, or of someone getting to their exchange home and finding a vacant lot."
Booking Flights: Be Flexible and Save
When it comes to flying, it's easy to get overwhelmed by the sheer variety of booking websites, but the easiest way to get the best deal is by carefully planning when to book a flight.
When booking any type of travel the key to savings is flexibility. By moving travel dates, departure times, and itinerary—even just a little—there will be a lot more fare options and bargain fees.
Some airlines offer early bird discounts on reservations made up to three months in advance. Flying to a secondary or tertiary airport often gets cheaper flights.
The price of a flight can fluctuate daily, or even hourly. Airline ticket prices—like all prices—are based on demand, not value. To get the best deals, buy tickets when no one else is buying—that's when demand is lowest. Booking early in the morning or late at night, especially late on Wednesdays and Saturdays, will often save money.
Senior airfare discounts are not as common as they used to be but some airlines still offer discounts to passengers of a certain age. American Airlines, Delta, and United offer discounts on some routes. Southwest Airlines not only offer discounts to those over 65, but senior fares are fully refundable. Many foreign carriers offer discounts as high as 50%. TAME Airlines in Ecuador for example, offers 50% off to seniors and also has discounts for disabled people and Native Americans.
Repositioning Cruises: Get From A to B For Less
When it comes to getting from one place to another, there are all sorts of ways to keep costs to a minimum—but saving significantly doesn't mean sacrificing comfort or style.
Michael and Virginia Zullo are just two of those who have learned the secret of repositioning cruises.
"We found out that cruise lines repositioned their ships at the end of one season—moving them to another location for the next season," says Michael. "They sell off the cabins for these legs of the voyage very cheaply and, if you're in the right place at the right time, you can get a bargain. We traveled from the U.S. to Europe for a third-off normal prices. One of the big benefits of these cruises is that, not only do you get the transportation, but all your living expenses are covered."
One bit of advice though, says Michael, "Never take the shore excursions that the cruise ships offer. You can do it yourself for about a quarter of the price."
Travel in the Off-Peak Seasons
Knowing the time of year that is considered off-season can save money, too—not only on airfares, but on rentals, cars and just about everything else. The obvious added bonus is that there'll be fewer crowds to contend with, and the destination's local personality will stand out.
The off-season times for various regions of the world are:
Europe: November through March
Asia: January and February
The Caribbean: March through November
South America: April through November
The complete International Living article on saving money in retirement with slow travel strategies can be found at: Slow Travel in Retirement: Follow These 5 Tips and Save Thousands.
Editor's Note: Members of the media have permission to reproduce the article linked above once credit is given to InternationalLiving.com.
Further information, as well as interviews with expert authors for radio, TV or print, is available on request. To learn more, please contact InternationalLiving.com Associate Editor, Carol Barron, (772) 678 – 0287, CBarron(at)internationalliving.com.
For 37 years, InternationalLiving.com has been the leading authority for anyone looking for global retirement or relocation opportunities. Through its monthly magazine and related e-letters, extensive website, podcasts, online bookstore, and events held around the world, InternationalLiving.com provides information and services to help its readers live better, travel farther, have more fun, save more money, and find better business opportunities when they expand their world beyond their own shores. InternationalLiving.com has more than 200 correspondents traveling the globe, investigating the best opportunities for travel, retirement, real estate, and investment.