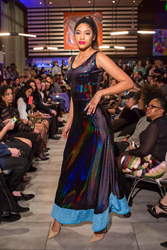 Casa De Angelina believes that every woman should be able to dress in a way that reflects her personality, sense of style and inner beauty.
Boston, Massachusetts (PRWEB) May 25, 2017
IM Boston is excited to welcome Casa De Angelina to their Marketplace. A company with both local and international roots, Casa De Angelina is truly an elegant fashion house.
Originally from the Cape Verde Islands, Angelina Monteiro has found her home in Boston. Angelina started her company in 2011 and has since created a place for herself in the New England fashion scene. Casa De Angelina is comprised of contemporary and elegant designs that are tailored to the tastes of the modern woman. These dresses are truly statement pieces that will make an impression at any occasion.
"Casa De Angelina believes that every woman should be able to dress in a way that reflects her personality, sense of style and inner beauty. We create designs that allow women to express who they are and to feel confident and beautiful for all of life's occasions," says designer and founder Angelina Monteiro. "Combining unique colors and textures, and drawing inspiration from every corner of the world, we aim to offer truly exceptional pieces that will have you feeling special and standing out from the crowd. Our brand is intended to fit women's lifestyle, one piece at a time, making it possible to create a glamorous wardrobe with the future in mind."
Not only does Angelina create incredible fashion, she also actively participates in the Boston charity scene. She has created collections for several charities in order to drive fund raising, in addition to putting a special focus on the "Our Children Our Future" organization. This particular charity sends school supplies and economic assistance to needy children in the Cape Verde Islands. IM Boston is proud to welcome a company that is passionate about giving back and making a difference.
Angelina has been a staple in the Boston fashion scene for quite some time. Starting in the fall of 2013 she has shown two collections each year at various venues across New England. This past December she was nominated for Boston's best evening fashion designer at the Boston Fashion Awards due to her captivating designs. The IM Boston Marketplace strives to include New England's best clothing and accessories companies that encompass the various cultures and personalities that make up the region. Casa De Angelina excels at this, making it the perfect fit for the Marketplace.
Stefanie Daneau, co-founder of IM Boston, describes the Marketplace as "a combination of unique, high-end pieces from many local designers that are uplifting and have a vision. We felt that Casa De Angelina's glam dress line was the perfect addition to our growing list of amazing products offered on our site."
IM Boston is proud to add them to their Marketplace and encourages you to visit the Casa De Angelina Shop on the IM Boston Marketplace. For their full fashion line, visit their website.
IM Boston is a Boston centric online magazine highlighting and sharing stories of people around the city. It was born from the idea that everyone has a voice that should be heard. IM Boston strives to bring the community together by discovering inspiring stories, participating in charity programs, hosting networking events, and more. To learn more about the magazine and how to participate, please visit the IM Boston Marketplace.