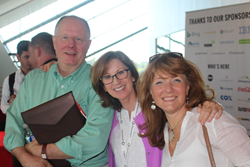 Marketers face a myriad of challenges from technology to media, but identifying how to talk to the consumer remains one of the biggest challenges we face.
Atlanta, GA (PRWEB) May 15, 2017
Atlanta-based direct and digital agency BKV welcomed over 120 senior marketing executives to the Porsche Experience Center in Atlanta for a day of learning how marketers can best adapt to the speed of change in today's overwhelming media and marketing landscape.
"Change is inevitable in our industry like death and taxes, but it can be exciting," said Maribett Varner, President of BKV. "Marketers face a myriad of challenges from technology to media, but identifying how to talk to the consumer remains one of the biggest challenges we face."
The invitation only Fast-Track Summit provided insights on disrupting the digital landscape from Google and Snapchat's investment bank, led by Gayle Meyers, CMO of Luma Partners, reducing friction on the mobile channel from Google's performance director Tim Reis, and optimizing customer experience from SPANX Vice President of Ecommerce Christa DePoe. Attending executives also shared their success stories, current challenges, and engaged in a collaborative and intimate gathering to develop strategies for optimizing revenue.
Tim Reis, Director of Performance Agencies for Google, spoke on the importance of speed in today's mobile retail environment. Consumers now spend 25% of media consumption via mobile and touch their phones on average 2,617 times per day. "We have to provide a frictionless experience for consumers today, as two-thirds of in-store purchases are influenced by digital," said Reis.
When asked about how marketers in attendance are adapting to today's changing landscape, the answers varied. "The experience for consumers can either be fractured or you can think about making it seamless and tracking it in that way," said Michael Bald, Managing Partner of Optimal Brands.
"The biggest challenge for us is keeping pace with customer expectations and making sure that we aren't a necessary evil for customers, but something they actually want," said Michael West, VP of Communications at Avangrid, a diversified electric and natural gas utility company.
Attendees also had the opportunity to get in the fast track mindset by exploring the best that German engineering has to offer at the Porsche Experience Center and feel the thrill of high speed racing on the Porsche Test Track. The precision and speed required to successfully navigate the course served as the perfect analogy for what is required to rise up to the changing media and consumer demand landscape and claim the checkered flag.
About BKV
BKV is an Atlanta-based full-service direct and digital advertising agency specializing in using data-driven strategies that make brands work harder. BKV's client portfolio includes local, national and global brands. The agency provides digital and traditional media services, as well as creative, web development, email marketing, CRM, SEO, social media, digital PR, direct mail, DRTV, database management, analytics and data modeling. For more information, visit http://www.bkv.com. BKV is a part of unified.agency which has offices in Atlanta, New York, Chicago and Princeton, NJ.