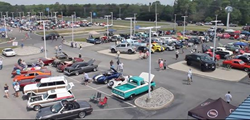 Woodbine, NJ (PRWEB) May 16, 2017
Gentilini Motors, a family-owned network of dealerships in Woodbine, Cape May County, New Jersey, invites car and truck enthusiasts to visit its Annual Antique Car & Truck Show. The Gentilini Annual Antique Car & Truck Show is the Memorial Day Sales Event that kicks off summer, and it is the biggest car show in South Jersey. If you love cars or you're on your way to shore with your friends and family, you're encouraged to come out to this fun-filled event. The 41st Annual Antique Car & Truck Show will take place on Saturday, June 3rd from 10:00 to 3:00 at Gentilini's Automotive Complex right in front of the Woodbine Airport located on John S Penn Blvd in Woodbine, New Jersey.
The Antique Car & Truck Show will feature hundreds of antique cars and trucks from all eras in automotive history. Car enthusiasts can check out hot rods, muscle cars, classics, antique, imports, and much more. In addition to that, free t-shirts are available to all entrants, there will be free food and drink, and there will be a guest appearance by "Penny the Clown" and a bouncy castle for the kids to enjoy as well. The show will be broadcast on local radio stations as well. It will be an amazing event for the entire family.
The event will also feature a number of exclusive deals. There will be special 0% financing available on select models. Ten different models for under $200 a month and $500 additional cash discount will be offered above and beyond factory rebates as well. Gentilini Motors will also be promoting the Ford Owner Advantage program and the GM Preferred Owner program where owners can receive $100 towards the purchase of their next vehicle, $10 towards future parts & service purchases, 5% cash back on every dollar spent on parts or service for life, and every 5th oil change is free.
Vehicle owners who are interested in being part of the show are encouraged to pre-register by Mail, Fax (609) 861-0265, or online. Those interested in attending the event can learn more by visiting the event's Facebook page.
Gentilini Motors looks forward to celebrating with you this June!
About Gentilini Motors:
The Gentilini Motors Organization is a family-owned network of dealerships that has served motorists since 1955. Located in Woodbine, Cape May County, NJ, Gentilini Motors is known for providing the highest level of customer service, receiving multiple industry awards for its family-style service. Gentilini Motors' inventory includes models from Ford, Chevrolet, GMC, Rocky Ridge, and more. Visit http://www.gentilinimotors.com to learn more.