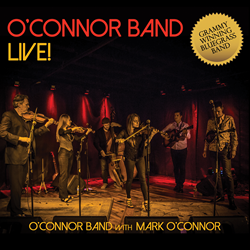 A 14-track live album, featuring the most exciting music from our concerts this year, was an absolute 'must' for us to release, because many fans have seen how special this group is on stage.
Nashville, TN (PRWEB) May 16, 2017
The Grammy Award-winning O'Connor Band, featuring seven-time CMA Award-winning fiddler/violinist Mark O'Connor, will release their first live album on June 7 via OMAC Records. This is the first record the band has released since their full-length debut, "Coming Home", which won a Grammy Award for "Best Bluegrass Album" earlier this year.
The band features three of Mark's family members – his wife Maggie (violin/vocals), son Forrest (mandolin/vocals), and daughter-in-law Kate (violin/vocals) – in addition to guitarist Joe Smart and bassist Geoff Saunders. Critics throughout the industry have praised the O'Connor Band's virtuosity, compelling songwriting, intricate arrangements, and dynamic and charismatic live performances, and the band has quickly risen to become one of the foremost groups in the Americana/bluegrass scene.
Shortly after winning their first Grammy Award, the band was signed by premier booking agency William Morris Endeavor Entertainment (WME) at the behest of WME's co-head, Greg Oswald, who dubbed the band "incomparable." Nashville-based agents Matt Malcolm and Doug Neff will oversee bookings for the group.
"The O'Connor Band is almost too good to describe," says producer Tony Brown (George Strait, Vince Gill, Reba McEntire), who has been working with the band in recent months. "They have excellent musicianship, stylistic vocals, and showmanship beyond compare. If we entered them in a battle of the bands, they would definitely win!"
"I was stunned," concurs entertainment lawyer John Mason (Jackson 5, Smokey Robinson, Shakira, Olivia Newton-John). "This is the best band I have seen in decades."
After debuting in fall 2015, it didn't take long for the O'Connor Band to achieve a world-class level of artistry, tightness, and energy, which are featured in full force on their new live album.
"A 14-track live album, featuring the most exciting music from our concerts this year, was an absolute 'must' for us to release, because many fans have seen how special this group is on stage," says Mark O'Connor. The "no-holds-barred, jam-band energy recording," as he calls it, took place in a single engagement at the historical Sellersville Theater in Pennsylvania.
O'Connor believes the sparkle of the live album is a result of both the band's unusually diverse set of talents as well as the history behind much of the repertoire performed.
"In our live shows, my son, Forrest, and I play dueling mandolins on a few of the tunes I used to perform with some of my old bands, including 'Strength in Numbers', 'The New Nashville Cats', and 'Appalachia Waltz [with Yo-Yo Ma],'" he says. "Audiences are really getting a kick out of seeing and hearing that material again, especially as Forrest has become one of the top mandolin players in the country. Each member of this band grew up listening to and being inspired by my music from the 1980s, so it is very special to bring it back to the forefront with them."
In addition to featuring originals by O'Connor and his family members, the album includes a pair of old-time songs O'Connor used to perform with Doc and Merle Watson. "These feature my wife Maggie singing and fiddling up a storm, and Geoff picks up the claw hammer banjo and plays it brilliantly."
Last year, O'Connor was inspired by Joe Smart, the band's primary guitarist, to pick up the six-string bluegrass guitar again. Both O'Connor and Smart are former national flat-pick guitar champions, and both showcase their champion chops on the album.
"I think it is special for old fans of my guitar playing to see me pick it up again after a 20-year hiatus," says O'Connor. "Over the years, many folks have asked me when I would play guitar again – so here I am. Joe tells me that I was his guitar hero growing up, too, which is yet another musical backstory that plays out both on stage and on this recording."
Additional highlights on the album include Mark's emotional string quartet adaptation of Bill Monroe's "Blue Moon of Kentucky," which features the band's three fiddlers along with Saunders on arco bass; a rendition of the old spiritual, "Swing Low, Sweet Chariot," anchored by Mark and Maggie's soulful, virtuosic fiddling and six-piece a cappella singing; Bob Wills' signature classic, "Faded Love," highlighted by gorgeous double-stop fiddle work and "Kate channeling Patsy Cline," according to O'Connor; and a wild, up-tempo, "bluegrass rap" performance of Chuck Berry's "Johnny B. Goode" – an arrangement that has earned the band multiple standing ovations at the Grand Ole Opry over the last year.
"The bottom line, for me," says O'Connor, "is that my family has pushed me to play the fiddle better than I ever have, and that is evident both in the shows and on the album. It especially comes through in some of the more driving material, like 'Gold Rush,' 'Ruby,' and 'Coming Home.' The music is jamming, it is grooving, and it is scorching."
The O'Connor Band is touring throughout 2017 to promote their new album at major concert halls around the country, including the Arlene Schnitzer Concert Hall, the Blumenthal Performing Arts Center, the Schermerhorn Symphony Center, and the University of Washington's Meany Hall. They will also headline at several venerable nightclubs (Jazz Alley, City Winery, The Dakota) as well as a number of major summer festivals, among them the Pagosa Folk'n Bluegrass Festival, Bristol Rhythm and Roots Festival, L.L. Bean Summer Concert Series, Lowell Summer Music Series, Grey Fox Bluegrass Festival, and IBMA's Wide Open Bluegrass.
The group looks forward to teaching at the O'Connor Method Camp in New York City from July 31-August 4, and they anticipate another packed schedule for their sixth annual An Appalachian Christmas tour this December. They are also contemplating another studio album featuring new material in the near future.
Watch 2017 Grammy Premiere Ceremony Performance by O'Connor Band.
Watch 2016 Music Video of O'Connor Band's "Coming Home."
Watch 2016 Music Video of O'Connor Band's "Always Do".
Read reviews by No Depression Magazine, Music Row Magazine, Music City Roots, PopMatters, Country Standard Time, and Elmore Magazine here.
For more information on the O'Connor Band, visit http://www.oconnorband.com. For more information on Mark O'Connor, visit http://www.markoconnor.com.
For press interviews by Mark and band members, please contact Fiona Zwieb at fiona@fionazwieb.com, 917-683-2750.