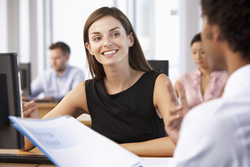 Many CX programs used are designed to run continuously, with questions that do not change. But this results in disinterested stakeholders, actions not getting the attention they deserve, and a general loss of focus.
SLOUGH, UK (PRWEB UK) 16 May 2017
What is TTi Global's Customer Experience Quality Analysis (CEQA)?
CEQA delivers next-level customer insights. No other CX research framework provides the context around your customers' journeys at each touchpoint, with data that translates to real actions and recommendations for tangible improvements.
CEQA analyses customer experience across all touchpoints, from pre-purchase expectations and helpfulness of the sales team during purchase, to the smoothness of payment systems and effectiveness of staff dealing with after-sales queries.
CEQA is a dynamic research framework developed from the PZB model that provides a strong foundation for ongoing research programmes and can be tailored for organisations in a wide range of sectors.
Why is the CEQA model different from other CX research programmes?
Finding out what is important to your customers is critical for driving customer satisfaction, advocacy, and retention. Following extensive investigation into the different research solutions currently available to both B2C and B2B organisations, TTi Global research discovered that many customer experience programs were not providing a full picture for organisations.
Glyn Luckett, Commercial Director at TTi Global Research, explained:
"While analysing typical CX research surveys, we discovered that, while they do a fair job of delivering individual aspects of customer research, they aren't providing a holistic understanding of customers that organisations need to really make a difference to customers."
For example, for benchmarking purposes, many CX programs used are designed to run continuously, with questions that do not change. But this results in disinterested stakeholders, actions not getting the attention they deserve, and a general loss of focus.
Mr Luckett continued: "CEQA enables businesses to understand and, importantly quantify, the quality of their customer experience at touchpoints across multiple communication channels in both B2C and B2B environments. Outputs are prioritised against customer requirements, enabling actions to be taken against the areas of service that will have most impact on business metrics."
CEQA has been positively received by businesses
Because CEQA uses information from the many interactions a customer has with a company, whether face to face, on the phone or online, businesses are understandably excited to use the new framework, which is the first to provide such detailed, contextual and personalised data.
Mr Luckett commented:
"Early feedback from businesses using the CEQA model has been extremely positive, regarding how the model evolves through customer input and enables them to really understand the customer, not only today, but in the future. Through its ability to look at how customer needs will change and prioritise those, providing a very clear view of what needs are and enable action taking to be ahead of competition."
In ensuring that all customer experience tracking is managed against the areas that are of most importance to customers, the CEQA framework is invaluable in delivering simplified, actionable recommendations to businesses that will have the greatest impact on satisfaction and loyalty.
With CEQA businesses can accurately predict change and disruption before the market detects it to give them a competitive advantage, and identify what the business does well and the areas for improvement, creating greater resourcing efficiencies.
TTi Global Research has over 20 years' experience in delivering insightful market research solutions across multiple sectors for organisations worldwide. For more information about CEQA and other employee, customer and stakeholder research services visit the website.
Sources
1. Customers 2020: The Future of B-to-B Customer Experience, Walker.
-- END --
About TTI Global Research
An accredited Market Research Society (MRS) Company Partner, TTI Global Research operates a fully integrated quality management system at every stage of every research project, assuring the highest quality market research methodologies, data output and analysis.
By applying appropriate analytical techniques and sector knowledge, TTI Global Research provides organisations with a deep level of insight into their business challenges. A unique approach, combining the 'what' and 'how' data with the essential 'why', equips clients with powerful insights enabling them to implement changes and accelerate business growth.
TTI Global Research is committed to being, a 'people focused' organisation. Whether it's six in depth interviews, multi-market dealer or customer experience research, each and every project is important. From initial engagement through to results delivery, your team will be experienced, consistent, and know your sector.