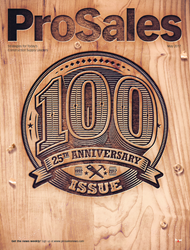 (PRWEB) May 18, 2017
Hanley Wood, the premier information, media, event, and strategic marketing services company serving the residential, commercial design and construction industries, has released its 2017 PROSALES 100. This ranking of the nation's largest pro-oriented construction supply firms reveals that those companies saw their revenues rise 15.6% in 2016 from the year earlier. Total revenues for pro-oriented construction supply firms reached $49.36 billion in 2016—a number unmatched since the housing boom a decade ago, only this time with far fewer housing starts to propel business.
The PROSALES 100, produced by Hanley Wood's PROSALES magazine since 1992, is America's premier report covering those construction supply companies that garner at least 35% of their revenues from professional builders. Large operations that cater primarily to retail customers, such as The Home Depot, Lowe's and Menards, are excluded, thus making it possible to examine more accurately the pro-oriented side of the lumber and building material (LBM) industry.
"After adjusting for inflation, the PROSALES 100 generated higher numbers in 2005," noted Craig Webb, editor-in-chief of PROSALES. "But new construction plays a big role in how pro-oriented dealers perform, and in 2005 we had 2.1 million housing starts while in 2016 we had just 1.2 million. When you examine inflation-adjusted revenue per housing start, the current PROSALES 100 did 64% better. Their sales per worker also were markedly better. Such performance suggests today's biggest dealers are operating with unmatched efficiency."
The 100 dealers in this, the silver anniversary edition of the PROSALES 100, employed nearly 102,000 workers as of the start of this year, up 10.2% from a year earlier, while managing 4,330 facilities, a 3.9% increase. They provide a significant share of the products that contractors use to build and repair the nation's homes, apartments, and commercial buildings.
Roofing and exterior products specialist ABC Supply took the top spot for the seventh straight year with $7.17 billion in total sales, 99% of it to pros. Builders FirstSource (BFS), a full-service lumberyard was next at $6.37 billion in total sales, 90% of which went to pros.
Beacon Roofing Supply moved from fourth into third place, swapping with the full-service lumberyard BMC. Rounding out the top 10 were US LBM, 84 Lumber, Allied Building Products, GMS, SRS Distribution, and L&W Supply.
Those 10 companies account for just under 70% of all 100's revenues and nearly 66% of their facilities.
Ninety-one of the 100 companies reported revenue increases in 2016 over the year earlier, one was unchanged, and seven posted declines. One company—L&W Supply—can't be counted because PROSALES counted only 10 months of its revenues; its sales for November and December were folded into those of ABC Supply, which acquired L&W last October.
PROSALES 100 companies generally fit into three groups: traditional lumberyards that focus on selling wood and other building products; lumberyards that also have manufacturing operations, typically to build trusses and wall panels or put the final touches on door assemblies; and specialty dealers, which focus on selling a narrow variety of products, such as roofing or insulation. Specialty dealers tend to be bigger; there are only 11 in this year's PS100, but they account for 42% of the entire PS100's sales. The 60 lumberyards with manufacturing capabilities account for 51% of total sales, while the 28 lumberyards without any manufacturing figured in just 7% of all sales. There also was one millwork specialist on the list that contributed 0.1% of the whole group's revenue.
Lumberyards date back to Colonial times in America, but for all that history, this is a turbulent business, as a comparison of today's PROSALES 100 with the original 1992 list makes clear. "Of that original 100, a total of 41 companies are still here, usually under their original name," Webb noted. "Another 38 companies were bought—sometimes several times—over the past 25 years. And of the final 21 companies, 19 are completely out of business and two others were broken up so severely that they are basically gone."
PROSALES magazine provides residential construction companies with information, insights and advice on improving sales and service. For more information on the magazine or PROSALES 100, visit prosalesmagazine.com and click on the tab near the top marked "PROSALES 100 & Companies."
About Hanley Wood
Hanley Wood is the premier company serving the information, media, and marketing needs of the residential, commercial design and construction industry. Utilizing the largest analytics and editorially driven Construction Industry Database, the company provides business intelligence and data-driven services. The company produces award-winning media, high-profile executive events, and strategic marketing solutions. To learn more, visit hanleywood.com.