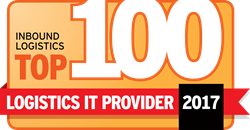 New Plymouth, Idaho (PRWEB) May 17, 2017
Inbound Logistics, a leading transportation and logistics magazine, has named Truckstop.com among its Inbound Logistics Top 100 Logistics IT Provider companies for 2017.
The announcement of the top 100 companies was made April 10.
"Truckstop.com continues to provide the technology solutions Inbound Logistics readers need to achieve the visibility and control that drives successful supply chains. As shippers, carriers, and 3PLs increase their use of logistics IT, Truckstop.com continues to be flexible and responsive, anticipating customers' evolving needs," Inbound Logistics Editor Felecia Stratton said. "Truckstop.com deserves recognition for providing the innovative solutions empowering logistics and supply chain excellence in 2017."
Inbound Logistics selects its Top 100 list every April. Using questionnaires, personal interviews, and other research. Inbound Logistics selects its list from a pool of more than 300 companies. Editors seek to match readers' fast-changing needs to the capabilities of those companies selected. All companies selected reflect leadership by answering Inbound Logistics readers' needs for scalability, simplicity, fast ROI, and ease of implementation.
"We are very pleased, proud, and honored to be selected as one of Inbound Logistics' Top 100 IT Provider companies for 2017," Truckstop.com Chief Marketing Officer Brent Hutto said. "This honor shows the hard work of our Truckstop.com partners. We strive to be a top IT provider to our customers to help make their lives and jobs easier and more successful. We're more than just a load board; we're the complete package."
About Inbound Logistics
Since its inception in 1981, Inbound Logistics' educational mission is to illustrate the benefits of demand-driven logistics practices, give companies the knowledge to help them match the inbound flow of materials to their demand, and align their business process to support that shift. Inbound Logistics offers real-world examples and decision support to guide businesses to efficiently manage logistics, reduce and speed inventory, and offset rising transport costs, supporting business scalability across their value chain. More information about demand-driven logistics practices is available at http://www.inboundlogistics.com.
About Truckstop.com
Truckstop.com is the one-stop connection between North America's commercial transportation professionals. Founded in 1995 as the first freight-matching marketplace to hit the web, Truckstop.com has grown to provide load planning and optimization, transportation management, telematics, rate benchmarking and spot market data, and powerful negotiation tools. Truckstop Pro, Truckstop.com's most recent and most advanced software subscription, offers users a real-time load board and enhanced transportation partner search and qualification. To learn more, visit Truckstop.com.