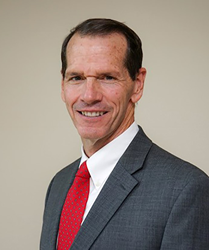 "Sid has more than 30 years of leadership experience, both with the U.S. government and in the private sector. He brings considerable alliance-building skills and a proven track record within demanding, high-pressure environments," said Kurt Seelbach
Leavenworth, Kansas (PRWEB) May 16, 2017
Armed Forces Insurance (AFI) is pleased to announce the appointment of Lieutenant General Stanley E. "Sid" Clarke III, U.S. Air Force (Ret.) as the incoming Chairman. Clarke begins his new role as Armed Forces Insurance celebrates its 130th year as one of America's most respected and trusted brands serving the military community. General Clarke will assume his duties from the outgoing Chairman, Lieutenant General Garry L. Parks, U.S. Marine Corps (Ret.) on June 22, 2017.
"Sid has more than 30 years of leadership experience, both with the U.S. government and in the private sector. He brings considerable alliance-building skills and a proven track record within demanding, high-pressure environments," said Kurt Seelbach, President and Chief Executive Officer, AFI. "Additionally, his distinguished military background gives him a thorough understanding of the unique needs of our members. We're thrilled to have him on board."
Clarke is currently an Executive Advisor to a Middle East client. During his distinguished military career, General Clarke served as Director of the Air National Guard, where he was responsible for formulating, developing and coordinating all policies, plans and programs affecting more than 105,700 National Guard members and civilians in 89 wings, and 175 geographically separated units across 213 locations. Prior to that, he served as Commander, 1st Air Force/Continental Region of NORAD.
Clarke was commissioned as a distinguished graduate of the ROTC program at the University of Georgia and graduated from undergraduate pilot training at Sheppard Air Force Base, Texas. He is a command pilot with more than 4,000 hours in the A-10, C-26, and the F-16. Previously, he served as the Commander, Continental U.S. American Aerospace Defense Command Region – 1st Air Force (Air Forces Northern), Tyndall Air Force Base, Florida. His command was comprised of 4 direct reporting units, 10 aligned Air National Guard units, a large number of active air defense alert sites, including aircraft, air defense artillery, and up to 15,000 active duty, National Guard, Air Force Reserve and civilian personnel.
Clarke has received multiple decorations during his military career, including the Distinguished Service Medal with Oak Leaf Cluster, Defense Superior Service Medal and the Legion of Merit with Oak Leaf Cluster.
Clarke has a bachelor's degree from the University of Georgia and a master's degree from American Military University. He is looking forward to continuing AFI's tradition of stellar service and continued growth.
ABOUT Armed Forces Insurance (AFI): Armed Forces Insurance is the insurance company of choice for current and retired members of the uniformed services, their children, and Department of Defense civilians. Founded in 1887 by military leaders with a single mission: to protect the property of those who protect our nation, providing premium quality, competitively priced property and casualty insurance to military professionals throughout the Armed Forces. We know our members have unique circumstances and insurance needs, and we offer a level of personalized service that is unequaled in the industry-because OUR MISSION IS YOU® - and your peace of mind.
The company also furthers our strong commitment to give back to military and local communities through important programs and sponsorships, including the Great American Patriot Award presented at the Armed Forces Bowl, the Armed Forces Insurance Military Spouse of the Year® Award, the Vetrepreneur® of the Year Award, the Gary Sinise Foundation, and the Military Warriors Support Foundation. In early 2015, AFI established the Armed Forces Insurance Foundation to assist in educating the military community on a wide array of key personal financial topics to help them succeed. For more information, visit the website at http://www.afi.org or call 1-800-495-8234, and follow us on LinkedIn, Facebook, Twitter and Instagram.‎
For interviews or press information contact: BP Media Relations, LLC
Barbara Pflughaupt, 212-707-8181 or Gabrielle Torello – 917-312-2832
###