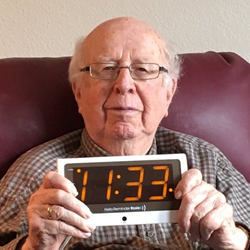 Eden Prairie, Minnesota (PRWEB) May 16, 2017
The Reminder Rosie, a device that reminds memory loss sufferers to take their medication and complete daily tasks, received high marks from a Toronto government home care agency following a pilot study measuring the device's effectiveness at improving medication compliance in patients with memory loss.
The three-month study conducted by the Toronto Central Community Care Access Centre (TC-CCAC) found that Reminder Rosie helped 86 percent of patients with poor medication compliance achieve 80 percent compliance. The small but qualitative study of 11 patients found Reminder Rosie to be especially helpful for those with mild dementia and cognitive impairment. The study projected that annual savings from time spent by home care professionals could range between $3,000 and $6,000 with the use of a Reminder Rosie.
Manufactured by LifeAssist Technologies Inc. of San Francisco and available through Harris Communications Inc., Reminder Rosie is a voice reminder alarm clock that allows caregivers to record up to 25 personalized messages in any language. Hearing these messages in a familiar voice has been proven by LifeAssist to deliver the highest level of medication and task adherence.
Reminder Rosie's high adoptability by cognitively challenged patients is due to its ease of use, said inventor Gary Rotman, whose father's dementia inspired him to create the Reminder Rosie. Rotman serves as vice president of channel sales for LifeAssist Technologies.
"You don't have to learn anything new and Rosie looks like a familiar digital alarm clock from the 1980s," Rotman said. "All you have to do is record your messages and they play at certain times. So if your dad needs to take his medication at 3 p.m., you simply record a message that says 'Dad, it's time to take your medication.' After he hears the reminder message at 3 p.m. and takes his medicine, he can turn off the reminder by saying 'Reminder Off' or by pressing the clock down. It's that easy. Messages can be recorded for every day, weekly, by date or annually."
Reminder Rosie also will answer simple questions, including "what day is it?" and "what time is it?"
Reminder Rosie has been a godsend for caregivers and seniors, including caregivers Joe Yezzi, Amy Agrimson and their fathers.
"My father is a 90-year-old WWII veteran," said Yezzi. "He has problems remembering appointments and I live far away and am unable to check in on him. Reminder Rosie is the answer. It's easy to set up and to use, whether it's a one-off appointment or a daily reminder to take medication, or a recorded voice reminder to attend church on Sunday. Dad has a new reliable friend...I have peace of mind."
Agrimson agreed.
"My dad is 94 years old and because of [Reminder Rosie], he is able to live in an independent living apartment," she said. "He is forgetful so the machine helps him to get to exercise class, to the music concerts in the lobby and meals. It also reminds him when his favorite baseball team is on TV so he can watch them. He would be lost without Reminder Rosie."
More Information
Find out more about Reminder Rosie at http://www.harriscomm.com or call 1-877-539-7445.
Watch a video about Reminder Rosie at https://youtu.be/EscJmiw_Tfw.
About Harris Communications, Inc.
Based in Eden Prairie, Minnesota, Harris Communications, Inc. is a leading supplier of hearing loss solutions for people with all levels of hearing loss. Since its founding in 1982 by Dr. Robert Harris, himself a member of the Deaf community, Harris Communications has helped millions of deaf and hard of hearing customers enjoy their lives to the fullest by providing expert advice and a wide range of more than 2,000 assistive devices and educational resources. The company's product line includes alerting devices, phone and TV amplifiers, personal amplification systems, tinnitus maskers, books and media and much more. Harris Communications also supplies ADA compliance products and hearing protection equipment.