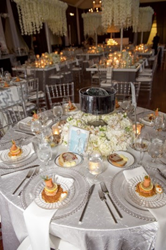 Our team is dedicated to planning and executing flawless and memorable events, and it is very rewarding to be recognized for what we do
(PRWEB) May 16, 2017
Atlanta catering company, Avenue Catering Concepts, has been named a "Diamond Awards Winner 2017" in the catering category by Modern Luxury Weddings Atlanta. This is a first annual award presented by the publication to companies and individuals considered to be the "Best of Atlanta" for various wedding services.
"We are thrilled that Modern Luxury Weddings Atlanta has recognized Avenue Catering Concepts as one of the leading wedding caterers in the Atlanta area," said David Covell, owner of Avenue Catering Concepts. "This award is particularly exciting to us because it is based on votes from the readers of the magazine who are actual people who have hired us and used our services. Our team is dedicated to planning and executing flawless and memorable events, and it is very rewarding to be recognized for what we do."
Modern Luxury Weddings Atlanta is a regional publication of the Modern Luxury Media Group, designed to provide Atlanta residents with an insider's look at the most glamorous bridal shops, wedding venues, and planning in the area. The 2017 Diamond Award winners were based on votes from more than 30,000 readers. In addition to catering, the awards covered a variety of categories including wedding planners, wedding invitations, photographers, videographers, florists, bridal boutiques, wedding cakes, engagement rings, locales for bachelor and bachelorette parties, and wedding and reception venues.
Avenue Catering Concepts is a partner of Saratoga Event Group, which operates the top event venues in Atlanta, including The Pavillion at Olde Towne, Chastain Horse Park, and The Historic Pace House. If you would like more information, please call Saratoga Event Group at 770-578-1110.
About Saratoga Event Group:
Established in 1984, Saratoga Event Group is a dynamic, full-service special event planning company based in Atlanta, Georgia. The company offers its event planning services to individuals, businesses, not-for-profit organizations and others seeking to host corporate functions, weddings, social occasions and other special events. Saratoga Event Group operates three unique Atlanta event venues: the Pavillion at Olde Towne, Chastain Horse Park and historic Pace House, and provides full-service catering through its award-winning partner, Avenue Catering. For more information, please visit http://www.saratogaevents.com.