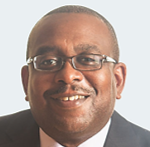 New York, NY (PRWEB) May 16, 2017
Cornerstone Capital, Inc., is pleased to announce that M. Randall Strickland has joined the firm as a Director and Client Relationship Manager for Cornerstone Capital Investment Advisory (CCIA). Randall will be responsible for supporting CCIA's clients in investment policy planning, ESG and impact investing integration, strategy and investment manager selection. He will be a primary point of contact for all aspects of account relationships with Cornerstone.
Prior to joining Cornerstone, Randall served as Sustainable Investment Specialist at Sentinel Investments where he worked alongside the firm's sustainable investing portfolio management and research teams as the subject matter expert and primary point of contact for clients and their advisors. Randall's experience also includes senior positions at City National Bank of New Jersey, ImpactAssets, Principal Global Investors, Commonfund and TIAA. He is a Board Member at Seton Hall Prep School, the Seedlr Foundation and the Montclair (NJ) Public Library Foundation. He has earned a Bachelor of Science from Cornell University and a Master of Arts from New York University.
"We are delighted to have Randy on our team," said Phil Kirshman, CCIA's Chief Investment Officer. "Randy has extensive wealth management experience and a proven personal commitment to sustainability-focused investing. He's a tremendous addition for us, and will be greatly supportive to our growing family of clients."
Cornerstone CEO Erika Karp added, "It's a privilege for Cornerstone to be able to attract such a seasoned professional who, like us, deeply believes that with the right expertise we can invest in such a way that both market returns and social impact can be achieved simultaneously."
Founded in 2013, Cornerstone Capital Group is a financial services firm based in New York. The mission of the firm is to apply the principles of sustainable finance across the capital markets enhancing investment processes through transparency and collaboration. In offering investment consulting and advising, investment banking, and strategic consulting services, Cornerstone works with asset owners, corporations and financial institutions, promoting new research in the field of Environmental, Social and Governance (ESG) analysis, and facilitating capital introductions for organizations around the world engaged in sustainable business practices.
Cornerstone Capital Inc. is certified as a women owned business and is an investment advisor registered with the Securities and Exchange Commission.