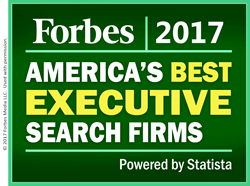 We are honored to be selected as one of the top executive search companies in North American.
(PRWEB) May 17, 2017
Executive Search Partner, an information technology focused recruiting company, has been ranked by Forbes among America's best Executive Recruiting firms, according to the newly released Forbes 2017 list.
Executive Search Partners was selected on the basis of results from an extensive independent peer review survey, conducted and tabulated by Forbes. Working with trade organizations and company databases, Forbes identified over 4,000 executive recruiters and polled thousands of recruiters, candidates who have worked with recruiters, and HR managers from a number of corporations, who completed the online survey.
"We are honored to be included on such a prestigious list," says Gary Erickson, Managing Partner. "Executive Search Partners is committed to providing quality information technology recruiting services to our clients and are pleased to have this confirmed by Forbes."
About Executive Search Partners
Executive Search Partners was formed by and is run by former Chief Information Officers. Each of us "grew up" in IT and understands in detail what it takes to be successful at all levels. We have each functioned as individual technical contributors, middle-level managers and senior executives responsible for IT operations, tactics and strategy. We utilize this unparalleled depth of knowledge and experience while working with our customers to first specify the exact requirements for each position and then thoroughly screen potential candidates. Executive Search Partners understands Information Technology. Executive Search Partners has offices in North Carolina, Florida , Louisiana and Michigan.