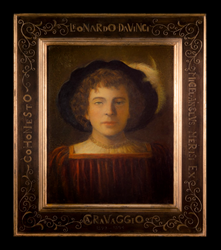 If authentic, the painting could be valued in the $100,000,000 range.
(PRWEB) May 17, 2017
Last week art investigators unveiled what could be a new portrait by Baroque master, Caravaggio. What makes the discovery even more fascinating is that the subject may be a never before seen portrait of the Italian Renaissance master, Leonardo da Vinci.
Today, the NPI news organization has revealed exclusive video of the press conference at which noted British "Treasure Detective", Curtis Dowling, presented the painting.  
The painting is currently undergoing expert analysis but a fascinating background of the painting's genesis has emerged. The artwork is believed to have been painted in either 1592 or 1596 when the young Caravaggio made his way to Rome hoping to make a name for himself and win commissions from Vatican patrons.
Baroque biographers record that Caravaggio first found work in Rome in the studio of Lorenzo Siciliano, churning out "heads" of famous Renaissance figures at the rate of three per day. While scholars consider these paintings "hack work" for which the artist was paid one groat per piece – a pittance - Caravaggio's brushwork, texture, colors, and use of chiaroscuro had nevertheless emerged.
After several months Caravaggio moved to the studio of Antiveduto Grammatica where a stable of artists created portraits of important Renaissance figures like Leonardo da Vinci, Michelangelo, and Lorenzo de' Medici.  Here, the young Caravaggio would have had access to artwork, sketches, and images depicting these figures. Experts speculate that Caravaggio may have been tasked with producing a portrait of Leonardo – a popular and revered subject who was closely studied during the Baroque period.
Scholars note that this possible "Caravaggio" bears a striking resemblance to known imagery of Leonardo that would likely have been found in Grammatica's studio. For example, it is generally believed that a popular bronze statue by the artist Verrocchio featured a young Leonardo as the model for David.  And since knowledge of Leonardo's life was still fresh, Grammatica and Caravaggio may have known that Leonardo wore his hair in bangs as depicted in his masterpiece "Adoration of the Magi" - just as it is depicted in this potential Caravaggio portrait of the Italian master.
The painting has reportedly been hanging on the walls of an Italian villa near the Tuscan town of Siena perhaps since the time it was painted. Experts say it appears to have suffered some degradation due to the dust, heat, humidity and cold of its hanging conditions. The painting appears to have been restored at sometime in the 20th century and seems to require further restoration
Experts who are reviewing the painting say scientific analysis will be conducted for the next several months. Though scholars agree that the newly discovered painting would not be considered among Caravaggio's greatest work, it would nevertheless be of great historical significance and would be a major art event whose value could reach into the $100 million range.
Further Information
NPI is a news organization covering art, culture, entertainment and trends. Inquiries regarding the news conference and presentation may be sent to: npinews(at)yahoo(dot)com