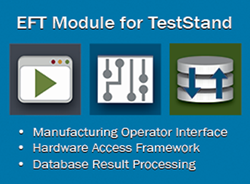 Add-on software from our third-party developers is an integral part of the NI ecosystem, and we're excited to honor Bloomy for its achievement with the EFT Module.
WINDSOR, Connecticut (PRWEB) May 22, 2017
The EFT Module for TestStand by Bloomy Controls, Inc., (Bloomy) was honored today as a finalist for the LabVIEW Tools Network Application Enablement Product of the Year Award. This award recognizes innovation and achievement in add-on software development and was presented during the LabVIEW Tools Network awards ceremony on Alliance Day.
Held during NIWeek, Alliance Day is exclusively for NI Alliance Partners, LabVIEW Tools Network product developers and NI regional sales teams. NIWeek brings together from a wide spectrum of industries to learn about the latest technologies for software-defined systems in test, measurement and control. The 23rd annual NIWeek, May 22-25 at the Austin Convention Center in Austin, Texas, features technical sessions, interactive demonstrations and keynotes on emerging trends in science and industry.
"Add-on software from our third-party developers is an integral part of the NI ecosystem, and we're excited to honor Bloomy for its achievement with the EFT Module," said Matthew Friedman, senior group manager of the LabVIEW Tools Network at NI.
One of a select few, Bloomy is in its 3rd decade as an NI Platinum Alliance Partner. Bloomy provides a solution strategy that brings new systems to market quickly, while expanding the customer's in-house technical capabilities to maintain and extend the systems they deploy. Leveraging the increased productivity offered by TestStand 2016, the EFT Module for TestStand delivers even more productivity features for organizations that wish to standardize on a common TestStand framework.
Learn more about Bloomy by visiting http://www.bloomy.com.
About Bloomy
Bloomy Controls, Inc., (Bloomy) provides products and services for avionics real-time test, manufacturing functional test, battery test and simulation, as well as world-class NI LabVIEW, TestStand, and VeriStand application development. Typical applications include PCBA functional test; aerospace systems integration lab (SIL) data systems; avionics and battery hardware-in-the-loop (HIL) test; and rapid development of OEM software. These products and services exemplify the world's best professional practices. Bloomy's quality management system conforms to the ISO 9001:2008 standard. A National Instruments (NI) Platinum Alliance Partner, Bloomy has influenced LabVIEW development best practices by publishing its internal development standards in The LabVIEW Style Book (copyright © 2007, Prentice Hall).
Bloomy is a trademark of Bloomy Controls, Inc.
About NI
NI (ni.com) empowers engineers and scientists with a software-centric platform that incorporates modular hardware and an expansive ecosystem. This proven approach puts users firmly in control of defining what they need to accelerate their system design within test, measurement and control. NI's solution helps build high-performance systems that exceed requirements, quickly adapt to change and ultimately improve the world.
About the LabVIEW Tools Network
The LabVIEW Tools Network is the NI app store that equips engineers and scientists with third-party add-ons and apps to help them complete their systems. These cutting-edge technologies expand the power of NI software and modular hardware. Each third-party product is reviewed to meet specific compatibility guidelines. With hundreds of products, the LabVIEW Tools Network is part of a rich ecosystem extending the NI platform to help customers positively impact our world. Learn more at http://www.ni.com/labviewtools.
LabVIEW, National Instruments, NI, ni.com, NI TestStand and NIWeek are trademarks of National Instruments. Other product and company names listed are trademarks or trade names of their respective companies.
A National Instruments Alliance Partner is a business entity independent from National Instruments and has no agency, partnership or joint-venture relationship with National Instruments.