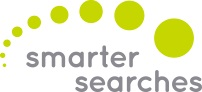 Knoxville, TN (PRWEB) May 16, 2017
Smarter Searches Owner and CEO, Courtney Herda, took home the prestigious Young Entrepreneur Award at the Knoxville Chamber of Commerce's 2017 Pinnacle Awards Gala last Friday night. This year marked the second consecutive year in which Herda was a finalist for the award, which made her victory all that much sweeter.
"It is such an honor to be recognized for this award, particularly as a female executive in the tech industry," she said. "With just 10-15 percent of tech executives being female, it is amazing to receive recognition at this level for our work," added Herda.
Smarter Searches is a digital marketing agency that provides online marketing services including search engine optimization (SEO), pay per click advertising (PPC), social media management, and website design, among a wide range of services. Besides the Pinnacle Award, Herda was also awarded a spot on the Greater Knoxville Business Journal's 40 Under 40 list in 2016.
Since the award was first given out in 2005, only one other woman has taken home the trophy. Herda prides herself on being at the top of her industry, while standing in the minority of business owners in the tech industry. She counts herself among only just 10.5% of business owners with a female owner with more than one employee. For this reason, she is exceedingly proud to be honored with this award, and hopes to inspire more women to aspire towards success in the tech industry.
This award is the culmination of years of hard work for Herda. Smarter Searches was built from the ground up, and she has done it entirely debt-free and all in-house. Since its inception in 2012, Smarter Searches' revenue has grown over 8233%, and has even higher aspirations for 2017 and beyond.
###
Smarter Searches is a digital marketing agency helping to bring online visibility to businesses of all industries. From website design to search engine optimization to pay per click advertising and social media, we focus on creating brand cohesion with our clients so that every piece of your marketing strategy connects you with your users across the web. Our strategy helps you think smarter to become more engaging, more creative, more effective, and more profitable online.