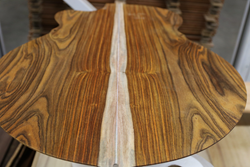 "The whole entire body is just alive" - Devin Purcell.
Oakland, New Jersey (PRWEB) May 19, 2017
2017 marks twenty-five years since the acoustic guitar craftsmen debuted their first five models, and since then Breedlove has come to be known the world over as an innovative, passionate brand whose master luthiers have a single-minded goal: satisfy the hands, heart, and soul of the musician. To celebrate this important milestone, American Musical Supply has released a new behind-the-scenes article on Breedlove Guitars.
Music industry journalist Freddy Charles met up with Devin Percell, Breedlove's global sales manager to get the story.
"We're not trying to be 'anything for anyone,'" said Devin Percell, Breedlove's global sales manager. "We're trying to create purpose built instruments." From the unique Breedlove American Guitars built in Bend, Oregon to the incredibly versatile Breedlove International Guitars, these instruments are purpose-built, targeted towards certain types of players. And while they may have started with guitars, Breedlove Bass Guitars and Breedlove Mandolins expand musical possibilities with their own unique flavors and provide exciting new voices for solo musicians and bands alike. Ultimately, when it comes to all of Breedlove's instruments, everything from the implementation of design to body style and bracing patterns are all geared towards specific styles of musicians.
To illustrate Percell's point, one need only look at the long list of Breedlove-loyal virtuosos, which includes singer-songwriter Lisa Loeb, Honeytribe founder Devon Allman, and Jeff Pilson of Dokken and Foreigner, to name just a few.
The original notion behind Breedlove was conceived long before the company's inception in 1990. In the late nineteen eighties, Larry Breedlove and Steve Henderson, the company's founders, both worked for a well-known guitar manufacturer, but the duo had their own ideas about how instruments should be crafted.
Ultimately, in order to execute their ideas, Larry and Steve had to break away from the traditional guitar manufacturers and start their own company. The premise: create the most dynamic acoustic guitars possible. In order to produce the distinctive Breedlove sound, their early prototypes implemented two crucial elements that set the standard for the brand, even into modern day. The first was a graduated top thickness, which is slightly thicker on the treble side to produce a cleaner, more balanced tone. The second is a unique bridge truss system that allows the top wood sustained flexibility without sacrificing stability. These two components, available in many Breedlove models, enable the superior sound for which the company is known.
For the last twenty-five years, Breedlove's goal has always been to make distinctive sound by way of meticulous design and handcrafted instruments. They continue to look to the future with the exact same drive and passion as their innovation continues to push forward. In 2017 they will debut their "Big Sound" instruments, the incarnation of years of research and experimentation with various body shapes and tonewoods.
"The overarching concept is that every piece of wood is different; every tree is different, even each part of a tree is different," explained Percell. "It's really hard to take a guitar and just build a series to spec with the same
top thickness and same dimensions and expect consistency."
Though the concept is fairly simple, the execution was not. The goal was to use modern technology to understand how the varying top wood moves, and then engineer each top to get the best response from each particular instrument.
Breedlove set about studying the variable densities within each exotic tonewood that they use in their guitars—a diverse assortment that includes Adirondack spruce, cocobolo, Brazilian rosewood, Honduran mahogany, and even kauri from New Zealand. To complicate matters, each individual tree can have up to thirty percent variance in density, even when cut in identical dimensions.
What eventually came of this research was a new body shape that provided a vehicle for a breakthrough technology in acoustic guitar manufacturing, which Breedlove refers to as "sound profiling." Rather than ignoring the variance as many other manufacturers do, Breedlove has embraced it—and while it makes for a more complex process, it also allows for a more consistent sound.
While the details of sound profiling are quite involved, the method itself is interpretable enough: Each unique soundboard is analyzed via a computer program to find the exact thickness required to reach a specific frequency. The top is then matched with a back that, in conjunction, achieves not only an ideal weight, but a target frequency that results in clear, clean, and precise sound.
Breedlove has already implemented their sound profiling technology to twenty-five different models, spanning body shapes like Concerto, Dreadnought, Parlor, and others—all of them made to specification in the US, at their Bend, OR workshop.
Breedlove's pursuit of experimentation doesn't end there. Studies in smaller sound holes have produced guitars that add texture to every note through increased air compression, creating extreme resonance and clarity.
As Percell put it, "The whole entire body is just alive."
This is an abridged version. To read the complete story, visit the official AMS Breedlove brand page.
Copyrights: use of this story, in part or in full, is granted provided original source page is referenced: https://www.americanmusical.com/Breedlove