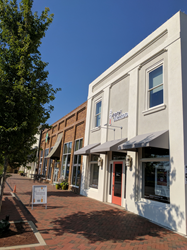 The industry continues to change -- it's hard to see what technologies will win. But we've made a lot of great decisions.
Atlanta, GA (PRWEB) May 15, 2017
Digital Scientists is pleased to announce the celebration of their ten-year anniversary scheduled for Thursday, May 18th. The event, which coincides with the weekly Alpharetta Food Truck Alley events, starts at 5:00pm and is a tribute to a decade of business as well as a way to thank friends, family and clients who have helped along the way.
The year Digital Scientists launched was a big year in technology--the iPhone was released, Facebook and Twitter went global, Kindle and Android were released, Google bought YouTube, and Airbnb was founded.
Since then, the team has been building digital products that help their clients provide better user experiences and solve complex problems. It started with their first "lab" in Atlanta, then two years later in the new, current location in downtown Alpharetta.
Digital Scientists CEO Bob Klein explained why he enjoys the work: "I like the personal part. When people place their trust in us, it's gratifying. I also like the idea of people using products that we make. There's a utility to things we deliver, and good or bad, we get to hear directly from users."
Digital Scientists' first big project was with Thomson-Reuters. The team built a social network for innovation and supported it with a series of events that hosted leading minds on the topic. Each of the Thomson Innovation Summits had a specific focus and objective, with the goal of considering the potential of professional social networks and how they might provide a new platform for leveraging the company's deep vertical knowledge of its customers. Other big projects that followed were InferfaceFLOR, Gables Residential, Rately, RoadNinja, and Huddle's GoFan.
What makes Digital Scientists' anniversary particularly noteworthy is a core team that brings together a trio of skill sets that traditionally have been known to face struggles when working together: Bob Klein, Digital Scientists' CEO, who brings expertise in business and strategy; Vishi Gondi, the CTO, who brings strategy and development expertise; and J.R. Gunderson, the UX Director, who excels in user experience design.
The team launched their first app in the Apple App store in 2009, just six months after its official opening. Through the last ten years, Digital Scientists has worked with all kinds of businesses, from startups to global corporations.
As they enter their tenth year, some of the company's high points include:
Opening new offices in Atlanta (at WeWork Tower Place, in Buckhead) and Greenville, SC at NEXT Innovation Center.
Partnering with Innovation Leader, an organization that provides professional resources and sponsors innovation events around the country.
Authoring a seven-part product launch guide, of which the introductory article is featured in the Winter 2017 issue of Innovation Leader Magazine. The full product launch guide will be available for download later this month.
"The industry continues to change -- it's hard to see what technologies will win. But we've made a lot of great decisions. We create a lot of value by moving fast and building something that's delightful to use," says Vishi, on what he looks forward to working on in Digital Scientists' future.
Digital Scientists' Anniversary event will take place on Thursday, May 18th from 5:00pm-8:00pm at their Alpharetta office. To RSVP for the event, email hello(at)digitalscientists.com or visit the event page: https://www.paperlesspost.com/events/24209844-0e83a45d/event_page
To find out more about Digital Scientists' capabilities or their three locations throughout the southeast, visit http://www.digitalscientists.com or call 404.800.9751.