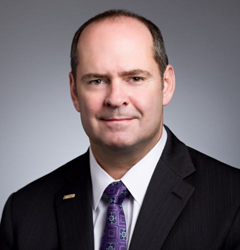 ... We continue to encourage innovators from the public and private sectors to invest in new projects, policies and technologies to keep America's transportation network strong, create jobs and improve mobility
WASHINGTON, D.C. (PRWEB) May 15, 2017
As the fifth annual Infrastructure Week, May 15-19, launches in Washington, D.C., HNTB Corporation joined key leaders from American business, labor and government to support the critical role infrastructure plays in America's economy.
Today, Rob Slimp, HNTB chairman and CEO, joined U.S. Secretary of Transportation Elaine Chao and other infrastructure experts at a kick-off event at the U.S. Chamber of Commerce. They discussed new technologies, projects and priorities for infrastructure in the 21st century, and debated how policymakers at all levels of government can work together to pass a transformative infrastructure package. Slimp moderated a panel that included Utah Speaker of the House Greg Hughes, Los Angeles Mayor Eric Garcetti and Glenn Youngkin with the Carlyle Group, representing the private sector.
"HNTB has been involved in Infrastructure Week since its inception, and we continue to encourage innovators from the public and private sectors to invest in new projects, policies and technologies to keep America's transportation network strong, create jobs and improve mobility," Slimp said. "The sad fact is, our country's infrastructure hasn't been adequately maintained. This week is about showing policymakers at all levels the wide-ranging support for finding long-term infrastructure solutions."
HNTB continues as a main sponsor of Infrastructure Week, a position it has held since the event's inception five years ago.
In addition, HNTB thought leadership pieces by Ananth Prasad, PE, transportation practice leader, and Diana Mendes, AICP, leader transit/rail market sector, appear on the event's website. Prasad wrote, "Investing in infrastructure is critical to our economic growth," and Mendes contributed, "Broadening the view."
According to organizers, Infrastructure Week is a national week of education and advocacy that brings together American businesses, workers, elected leaders and everyday citizens around one message: It's #TimeToBuild. During I-Week, leaders and citizens around America will highlight the failing state of our nation's infrastructure – roads, bridges, rail, ports, airports, water and sewer systems, the energy grid, and more – and encourage policymakers to invest in the projects, technologies and policies necessary to make America competitive, prosperous and safe.
A bipartisan steering committee and over 280 affiliates host events, drive media attention, and educate stakeholders and policymakers on the critical importance of infrastructure to America's economic competitiveness, security, job creation, and in the daily lives of every American.
About HNTB
HNTB Corporation is an employee-owned infrastructure solutions firm serving public and private owners and contractors. With more than a century of service, HNTB understands the life cycle of infrastructure and addresses clients' most complex technical, financial and operational challenges. Professionals nationwide deliver a full range of infrastructure-related services, including award-winning planning, design, program management and construction management. For more information, visit http://www.hntb.com.