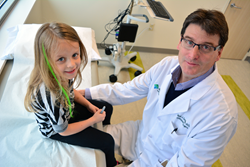 The Pediatric Orthopaedic Institute represents a unique approach to neuromuscular care in that families have all of the resources they need to manage their child's condition and help expedite their path to recovery and a higher quality of life.
WEXFORD, PA (PRWEB) May 16, 2017
Allegheny Health Network (AHN) announced today the opening of its new Pediatric Orthopaedic Institute, a multi-disciplinary program for children, adolescents and teenagers who suffer from orthopaedic and neuromuscular conditions, including those who sustain injuries that require same-day care.
Located at 12620 Perry Highway in Wexford, the AHN Pediatric Orthopaedic Institute is staffed by board-certified physicians and orthopaedic surgeons, certified physician assistants, prosthetists / orthotists, registered nurses and sports medicine specialists.
To celebrate the opening of the Institute, a ribbon-cutting event is scheduled for 5:00 PM. Media tours will also be available throughout the day.
"For those who seek orthopaedic care for their child that is comprehensive, compassionate and truly patient-centered, there is no better place in western Pennsylvania than the Pediatric Orthopaedic Institute," said Patrick J. DeMeo, MD, Chair of the AHN Orthopaedic Institute and Medical Director for the Pittsburgh Pirates. "With a world-class team of pediatric caregivers, we are extremely pleased to be able to provide this new resource to the community and look forward to the great service it will provide for families from across the region for decades to come."
The 15,000-square-foot Institute features various specialty centers of care dedicated to the diagnosis and treatment of neuromusculoskeletal injuries and conditions.
At the Kids' Sports and Injury Center, which offers same-day appointments and extended hours, children can receive care for acute injuries, including bone fractures, and other emergent conditions such as a slipped capital femoral epiphysis, or 'hip slip, and sudden limping.
The Spine and Musculoskeletal Center is designed for the treatment of complex neuromuscular conditions such as bone tumors or lesions, cerebral palsy, clubfoot, hip dysplasia, muscular dystrophy, Perthes disease, skeletal dysplasia, and spinal alignment disorders including scoliosis. The Center offers screening clinics for infant hip dysplasia, clubfoot and scoliosis, as well as care for infants in utero and young babies with neuromuscular conditions.
Within the Concussion and Sports Medicine Center, board-certified sports medicine physicians provide patients with access to state-of-the-art concussion diagnosis, management, and treatment. The Center is equipped with C3 Logix concussion evaluation and management technology – a groundbreaking system that combines a computerized neurocognitive exam with a novel tablet-based technology to determine the existence and/or severity of a head injury.
Specialists at the Institute also provide injury rehabilitation, physical therapy, and occupational therapy, as well as customized therapy for children with special needs, including those with Down syndrome and autism.
Directed by pediatric orthopaedic surgeon Mark Sangimino, MD, the Pediatric Orthopaedic Institute places a strong emphasis on educating patients' families and providing them the support needed to navigate their child's complete care path.
"Whether a child suffers a traumatic injury while playing a sport, or is diagnosed with a complex neuromusculoskeletal condition at birth, it can be a frightening time for the patient and their family," said Dr. Sangimino. "The Pediatric Orthopaedic Institute represents a unique approach to neuromuscular care in that families have all of the resources they need – in one location – to manage their child's condition and help expedite their path to recovery and a higher quality of life."
Combining compassionate care with proven technological advancements, the Institute offers highly advanced imaging capabilities, including onsite ultrasound technology and an innovative 3D-imaging technology called EOS.
The EOS machine scans a patient in the standing position using the lowest dose of radiation possible, yielding less risk to children. The scan shows the child's natural, weight-bearing posture which provides insight into the interaction between joints and the rest of the neuromusculoskeletal system, particularly the spine, hips and legs. EOS' extremely detailed, high-quality images assist doctors in making clinical decisions about treatment.
For one young patient who recently underwent EOS imaging and has a spinal curvature, the EOS's precise images assisted the onsite brace designers in making a more effective brace.
"It's about getting ahead of a patient's curve such that it does not progress to a point where surgery would be required," said Dr. Sangimino. "Our focus is always on prevention with aggressive nonsurgical treatment strategies for improved patient outcomes."
Under the leadership of Dr. Sangimino, the staff includes pediatric orthopaedic surgeon Stephanie L. Schneck-Jacob, MD; pediatric orthpaedic non-operative specialist Cathleen S. McGonigle, DO; concussion / sports medicine specialists and Pittsburgh Pirates team physicians Marco Alcala, MD, and Edward Snell, MD.
To make an appointment at the Pediatric Orthopaedic Institute, families should call 412-DOCTORS.
###
About Allegheny Health Network
Allegheny Health Network (AHN.org), part of Highmark Health, is an integrated healthcare delivery system serving the greater Western Pennsylvania region. The Network is composed of eight hospitals, including Allegheny General Hospital, its flagship academic medical center in Pittsburgh, Allegheny Valley Hospital in Natrona Heights, Canonsburg Hospital in Canonsburg, Forbes Hospital in Monroeville, Jefferson Hospital in Jefferson Hills, Saint Vincent Hospital in Erie, West Penn Hospital in Pittsburgh and Westfield Memorial Hospital in Westfield, NY. The Network provides patients with access to a complete spectrum of medical services, including nationally recognized programs for primary and emergency care, cardiovascular disease, cancer care, orthopedic surgery, neurology and neurosurgery, women's health, diabetes and more. It also is home to a comprehensive research institute; Health + Wellness Pavilions; an employed physician organization, home and community based health services and a group purchasing organization. The Network employs approximately 17,500 people, has more than 2,800 physicians on its medical staff and serves as a clinical campus for Drexel University College of Medicine, Temple University School of Medicine, and the Lake Erie College of Osteopathic Medicine.