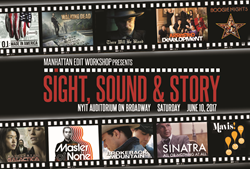 Each year we strive to bring the best talent from Post Production directly to our live audiences at Sight, Sound and Story.
New York, New York (PRWEB) May 16, 2017
Manhattan Edit Workshop (MEWShop), the cutting-edge authorized digital training hub for post-production and content creators, announces their all-star list of guest speakers and panelists for "Sight, Sound & Story" 2017. The annual one-day event is held this year on June 10, 2017 at the NYIT Auditorium on Broadway, just footsteps from Columbus Circle and Lincoln Center. "Sight, Sound and Story" is a high-profile speaker series that brings audiences behind the scenes and face to face with the legends of visual story telling.
MEWShop President, Jason Banke comments, "Each year we strive to bring the best talent from Post Production directly to our live audiences at "Sight, Sound and Story". The event showcases a unique opportunity to learn directly from our industry's leaders and experience the passion that goes into filmmaking, documentary editing, directing for TV, creating virtual reality experiences and more. Last year's sold-out event was a huge success and we look forward to producing this exceptional experience for many years to come."
Panel Topics This Year include; "Television's Cinematic Revolution," "Deconstructing Documentary Films", Cinematic 360/VR, and "Inside the Cutting Room with Bobbie O'Steen" featuring Dylan Tichenor, ACE (There Will Be Blood, Brokeback Mountain, Boogie Nights, The Town.)
This special one-day symposium features the some of the best in the business:

Dylan Tichenor, ACE ("There Will Be Blood," "Brokeback Mountain," "Boogie Nights," 'The Town")
Suzy Elmiger, ACE ("Mozart in the Jungle," "Master of None," "Casual")
Kabir Akhtar, ACE ("Crazy Ex-Girlfriend," "Arrested Development," "New Girl)
Maya Mumma, ACE ("O.J.: Made in America," "Restrepo")
Julius Ramsay ("The Walking Dead," "Battlestar Galactica," "Outcast")
Bobbie O'Steen, ("Cut to the Chase," "The Invisible Cut")
Michael Berenbaum, ACE ("The Americans," "Sex and the City")
Julina Tatlock (Co-founder 30 Ninjas)
Amy Foote ("The Work," "Mavis!," "A Matter of Taste: Serving Up Paul Liebrandt")
Sam Pollard ("Four Little Girls," "When The Levees Broke")
Garret Savage ("My Perestroika," Karen Schmeer Film Editing Fellowship)
Graham Roberts (Senior Editor at The New York Times)
Joergen Geerds (CEO and Creative Director at Koncept VR)
Ross Shain, Chief Marketing Officer at Boris FX & Imagineer Systems
For more information about panel topics, speakers and moderators, please click here.
Josh Apter, owner of Manhattan Edit Workshop states "Our mission is to entertain, educate and provide our audience with unprecedented access and insight from some of today's greatest story tellers."
Past Award Winning Guests have included; Anne V. Coates, ACE ("Lawrence of Arabia," "The Elephant Man"), Michael Kahn, ACE ("Saving Private Ryan, Schindler's List," "Raiders of the Lost Ark," "Lincoln"), William Goldenberg, ACE ("Argo," "The Imitation Game," "Zero Dark Thirty"), Alan Heim, ACE ("All That Jazz," "Network"), Sidney Wolinsky, ACE ("The Sopranos," "The Strain," "Ray Donovan"), Cindy Mollo, ACE ("House of Cards," "Mad Men"), Rob Legato ("Avatar," "Hugo"), Susan Morse, ACE ("Manhattan," "Hannah and Her Sisters") and more!
View clips from last years Sight, Sound and Story here.
Registration for June 10, 2017:
Make sure to secure your ticket before they sell out! Following the event is a networking/tech party sponsored by the American Cinema Editors (ACE) including hors d'oeuvres, drinks and giveaways. Event admission is $89.00 including access to the after-party, with discounts available at select partner organizations. To register, please click here.
Tickets also include a special attendee giveaway from Boris FX & Imagineer Systems!
MEWShop has partnered with Boris FX/Imagineer to giveaway a free, 3-month subscription license to professional visual effects tools. Choose between: Mocha VR, Boris Continuum and Sapphire.
Manhattan Edit Workshop – Certified Training in NYC
Founded in 2002 and headquartered in the Flatiron District of New York City, Manhattan Edit Workshop provides cutting-edge instruction in Apple®, Adobe®, Avid®, Autodesk®, Smoke® platforms and more. MEWShop's highly skilled and certified faculty instructs results-oriented curriculum in small workshop settings that have quickly won MEWShop the reputation as 'New York's premier post-production teaching facility'.
MEWShop also offers a signature Six-Week Intensive program to jump-start aspiring post-production creatives, as well as weekend and one-week courses in Premiere Pro, After Effects, DaVinci Resolve, Pro Tools, digital production courses and more.
Corporate, group training and customized curriculum are available either in-house or on-site for professionals to further new skills.