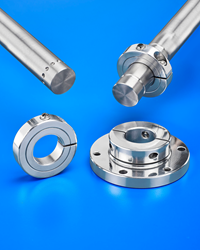 Wilmington, MA (PRWEB) May 22, 2017
Stafford Manufacturing Corp. has introduced a new self-locating feature for their line of shaft collars that permits fast and fully repeatable axial or radial positioning.
Stafford Positive Lock Shaft Collars feature a spring-loaded ball which can precisely fit into either a detent or a groove that is machined into a shaft to provide fully repeatable radial or axial positioning. Available on one-piece, two-piece, and hinged collars, this feature is designed for linear applications where exact repositioning and locking are required.
Fully integrated into each shaft collar, the Stafford Positive Locking feature can be added into one-piece, two-piece, and hinged collars that are machined from aluminum, steel, stainless steels, and other materials in bore sizes from 1/2" to 6" I.D. Other features such as tapped holes, flats, slots, grooves, and knurls can be included.
Stafford Positive Lock Shaft Collars are priced according to material, size, and quantity. Price quotations are available upon request.
About Stafford Manufacturing
Founded in 1975, Stafford Manufacturing Corp. is a leading manufacturer of shaft collars, couplings, and specialized mechanical drive and structural components. Their "Standard Series" features over 300 popular items which are in stock for immediate delivery, their "Signature Series" features premium quality collars and couplings manufactured in the USA, and their "Solution Series" features over 500 problem-solving components for anyone involved in product and system development.
In addition to their over 4,000 catalog parts, Stafford Manufacturing Corp. manufactures problem-solving parts for leading OEMs, contract manufacturers, and industrial distributors. Their well-engineered design solutions can be found in all types of equipment including conveyors, packaging machinery, processing equipment, recreational products, medical instruments, storage systems, and consumer goods. Stafford Manufacturing is ISO 9001:2008 Certified.
For more information contact:
Stafford Manufacturing Corp.
Jim Swiezynski, Technical Director
P.O. Box 277
North Reading, MA 01864-0277
(800) 695-5551 FAX (978) 657-4731
e-mail: jswiezynski(at)staffordmfg(dot)com
http://shaft-collars-couplings.staffordmfg.com/category/product-news
http://www.staffordmfg.com