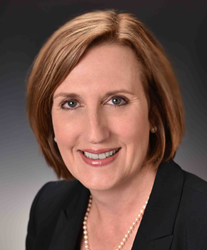 Charleston, W.Va. (PRWEB) May 16, 2017
Beth Rauer Goodykoontz has joined the litigation team of Steptoe & Johnson PLLC. She will focus her practice in the areas of toxic torts and products liability from the firm's Charleston, W.Va. office. Goodykoontz has more than two decades of experience representing clients from small manufacturers to Fortune 500 corporations.
"Steptoe & Johnson's litigation team has undergone significant growth in the first half of 2017, especially in our toxic torts and products liability practices," said firm CEO Susan S. Brewer. "Beth will complement our expanded litigation team adding valuable experience from a variety of industries."
Goodykoontz defends companies involved with asbestos litigation, premises liability, silica litigation, and mass torts. She works closely with clients in the chemical, manufacturing, plastics, and synthetic fiber industries and serves as coordinating liaison counsel in asbestos cases referred to the West Virginia Mass Litigation Panel. She previously served as an assistant attorney general in the Higher Education Division and Division of Labor of the West Virginia Attorney General's office.
Goodykoontz earned her law degree and master's degree from West Virginia University and her bachelor's degree from Indiana University. She is part of the Formation Committee for the West Virginia Women Attorneys.
About Steptoe & Johnson
Steptoe & Johnson PLLC is a U.S. law firm with more than 300 attorneys and core strengths in energy, business, employment, and litigation. Steptoe & Johnson operates 13 offices in six states including Colorado, Kentucky, Ohio, Pennsylvania, Texas, and West Virginia. Visit http://www.steptoe-johnson.com and connect with us on Twitter and LinkedIn.
For more information, contact Betsy Spellman, Chief Marketing Officer, at (304) 933-8000 or by email: press(at)steptoe-johnson(dot)com.
###