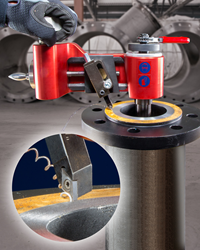 Holliston, MA (PRWEB) May 17, 2017
Esco Tool has introduced an easy to use, manually operated tool for re-facing damaged flanges and restoring them to like-new condition with a phonographic finish, virtually anywhere.
The Esco FLANGE HOG 110® is a manually operated hand tool with a rigid I.D. clamping system and a 1" to 10" I.D. range that provides a facing diameter up to 14". Suitable for re-facing a variety of flange materials including cast iron, carbon steel, stainless steel, aluminum, and many alloys, a user simply swings the tool in a circular motion which advances the facing blade outward and creates a perfectly precise phonographic finish.
Featuring 0.005" alignment accuracy, the Esco FLANGE HOG 110® incorporates a worm gear that smoothly drives a lead screw to produce a continuous and true spiral finish. Two interchangeable cross feeds are available for both a smooth and stock finish in accordance with ASME B16.5 standards. Supplied as a complete kit, the tool includes a sturdy carrying case, straight and 90 degree tool bit holders, and all necessary wrenches.
The Esco FLANGE HOG 110® is priced at $5,995.00 and is available for rent.
About Esco Tool
For over 60 years, Esco Tool has worked closely with end-users on the toughest tube and pipe cutting and end prep applications in the power generation and metalworking industries. Their experience has allowed them to invent and manufacture high quality, torque-free end prep tools that work efficiently and require no special operator training.
The Esco product line features their robust line of MILLHOG® pipe milling end prep tools and Air-Powered Saws and specialty mount systems, High-Speed Hand-Held Bevelers, and accessories. Offered for sale or rent, with 24 hour shipment or less usually available, these field-proven tools are built tough and precision machined from the finest materials to make sure that you get your job done properly, on time, and under budget.
For more information contact:
ESCO Tool
A Unit of Esco Technologies, Inc.
Matthew Brennan, Marketing Director
75 October Hill Rd.
Holliston, MA 01746
(800) 343-6926 FAX (508) 429-2811
e-mail: matt(at)escotool.com
http://www.escotool.com