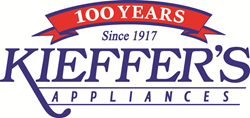 We're looking forward to celebrating our 100 year anniversary with our trade partners, but we strive to show appreciation daily
Lansdale, PA (PRWEB) May 16, 2017
Kieffer's Appliances, a 4th generation family owned company, celebrates its 100th year in business. Starting with humble roots, the business has now grown to be one of the largest appliance dealers in the tri-state area with a 16,000-square foot appliance showroom.
Founded by entrepreneur, John E. Kieffer, he originally sold tires and delivered blocks of ice. As a keen observer, he noticed the ice business declining and naturally progressed into the refrigerated ice craze of 1922. The Grono & Crosley refrigerator and the Royal electric vacuum cleaner were some of the first products to appear on the showroom floor. These appliances, considered revolutionary at the time, were the predecessor of what was to become the Kieffer's concept: a focus on the customer's needs and product expertise. This approach, continued by 4th generation owner Jace Kieffer, holds true today.
Today the company has 67 global brands with diverse cultural origins: US, Italian, French, Korean; brands such as Bosch (http://www.bosch-home.com/us ), Miele (http://www.miele.com ), Gaggenau (http://www.gaggenau.com) , and Subzero-Wolf (http://www.subzero-wolf.com ) are recognized world leaders. Kieffer's is unique from many dealerships as its focus is partnering with the trade; home builders, designers, and architects (as well as the discerning customer who appreciates good, old-fashioned service).
Commenting on this important milestone for the company, John Kieffer, President, said: "Our 100th is an opportunity to reaffirm our commitment to our trade partners; thanking our trade partners with appreciation events and even a gala at the end of the year for some of our key partners".
Son and Vice President, Jace Kieffer, continued: "We're looking forward to celebrating our 100 year anniversary with our trade partners, but we strive to show appreciation daily to both our customers and employees. We trust and empower our team—which our customers like because it eliminates big store bureaucratic tape". The Kieffer's attribute their success and 100 years in the business to being nimble, honest and valuing relationships—something 1st generation owner John E. Kieffer would be proud of today.
About Kieffer's: Kieffer's is an Appliance Dealer in Lansdale, PA. Founded in 1917 and still family owned, it is our mission to bring professional service, support, and a broad product selection to an industry dominated by large, impersonal retail chains to the trade and to customers. Kieffer's Appliances has become the largest independent appliance dealer in the tristate area featuring over 60 brands of appliances in our super Showroom. http://www.kieffers.com