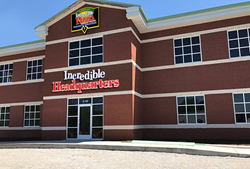 Our roots are in Springfield, and we're grateful to be able to celebrate this milestone here, where it all started 15 years ago.
Springfield, Mo. (PRWEB) May 16, 2017
America's Incredible Pizza Company is slated to unveil its new corporate office located in the Twin Oaks office park at 909 E. Republic Road in Springfield in August 2017. The new 12,000 square foot, 2-story building will accommodate their 70+ corporate and call center employees that serve over 1200 employees worldwide.
Owners Rick and Cheryl Barsness are installing state-of-the-art equipment throughout the building and providing amenities including a workout center.
The new offices are necessary to accommodate the tremendous growth the company has experienced over the last two years. Including:

Thirty thousand additional square feet to their Tulsa store, adding an indoor spinning roller coaster and doubling the size of their game room
An additional 12,000 square feet to their Springfield store, including a new go-kart track and go-karts and an indoor trampoline park and tilt-a-whirl ride
An indoor spinning roller coaster ride to their Memphis location, along with an additional 8,000 square feet to house the Bounce Town experience
Two new attractions in San Antonio, Drop Zone and Lost in Space, along with the company's first two-story laser tag arena
Upgraded go-karts in St. Louis, along with a remodeled game room, indoor roller coaster, and tilt-a-whirl ride
In addition to the improvements in their existing stores, Incredible Pizza purchased a brand new location in Warr Acres, Okla. This location is 100,000 square feet and their largest store yet.
Buyers in the purchase of the corporate office were represented by Broker Scott Axon at the Kingsley Group. The seller, Morris Dock with Three-D Properties, was represented by Broker Ken Schwab at Wilhoit Properties.
Rick Barsness, CEO and Founder of Incredible Pizza stated, "Our roots are in Springfield, and we're grateful to be able to celebrate this milestone here, where it all started 15 years ago."
Home to six fully-owned Family Entertainment Centers and four franchisees located in Houston and Mexico, America's Incredible Pizza is smoke and alcohol free and offers seating for hundreds of people. Since their humble beginnings, their priority has been to provide guests with exceptional food, thrilling games, and fun-filled memories for a lifetime. They offer an all-you-can-eat buffet and a variety of attractions, including laser tag, a spinning indoor roller coaster, go-karts, and bumper cars. The game room also holds over 100 video and prize games. To learn more, visit IncrediblePizza.com