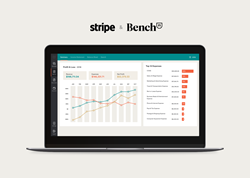 'By partnering with best-in-class service providers, like Stripe, we're taking it way past traditional bookkeeping. Now, with a click of a button, all accounts are connected. It's dead simple, instant utility.' - Ian Crosby
San Francisco, CA (PRWEB) May 17, 2017
Bench, the largest online bookkeeping service in North America for small businesses, announced today a partnership with global commerce platform, Stripe. Small business owners across the United States can now reap the benefits of diversified, complementary back-office solutions which take the guesswork out of getting paid, tracking revenue, and making informed financial decisions critical to the success and growth of their business.
"Bench offers a truly effortless solution to something that was once complicated for the underserved, 28.8 million small business owners across the United States," says Ian Crosby, Co-founder and CEO of Bench. "By partnering with best-in-class service providers, like Stripe, we're taking it way past traditional bookkeeping. Now, with a click of a button, all accounts are connected. It's dead simple, instant utility."
Small business owners can now instantly transfer their Stripe merchant data directly to their Bench account, eliminating the need to send separate reports to their bookkeepers. Transactions will be reported automatically into the Bench app, increasing categorization accuracy, eliminating the third party boundary and creating hands-off task management for clients.
"We're excited to welcome Bench to the 'Works with Stripe' ecosystem, and enable more Stripe users to seamlessly reconcile their transaction data," says Cristina Cordova, Head of Partnerships at Stripe. "By automating one of the most time-intensive aspects of operating a business, the Stripe and Bench integration allows more small businesses to reallocate their limited resources to the things that matter the most -- their customers and core product."
In an on-going effort to better support small business owners in their entrepreneurial pursuits, Bench is offering Stripe customers who are new to the bookkeeping service a 20% discount on their first 6 months of service.
-33-
About Bench
Bench is the largest online bookkeeping service in North America for small businesses. The five-year-old fintech company organizes the financials of small businesses, independent contractors, and entrepreneurs. Pairing its intuitive software with a live bookkeeping team, Bench combines the convenience and efficiency of modern technology with the expertise and time-savings afforded by a professional service to let business owners get back to doing what they love: running their business. Clients receive standardized, annual tax-ready financials, and monthly Profit & Loss and Balance Sheets.
Bench was co-founded out of NYC by Forbes 30 Under 30 winner, Ian Crosby in 2012. It has raised $33M to date, services thousands of business owners across the country and currently employs 250 people out of its North American headquarters. Follow @Bench or visit https://bench.co.