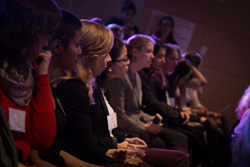 Joining forces with Ellevate will open up opportunities for our employees to network with other women business leaders throughout the world.
McLean, VA (PRWEB) May 17, 2017
Freddie Mac (OTCQB: FMCC) announced today that it has joined Ellevate Network, the leading network for professional women, in a partnership that extends membership benefits to the firm's employees, and provides cosponsored events to foster professional development.
"Joining forces with Ellevate will help us remain a destination employer for women," said Stephanie Roemer, director of the Office of Diversity and Inclusion at Freddie Mac. "It will also open up opportunities for our employees to network with other women business leaders throughout the world."
Freddie Mac's Women's Interactive Network (WIN) employee resource group works to build a strong community of women at the company and encourages personal development through cross-divisional networking opportunities that offer exposure to all levels of employees. Collaborative efforts with Ellevate will include networking, participating in formal and informal events, sharing information and insight on career goals, contributing to blog discussions and other activities.
"We are very pleased to have Freddie Mac as a Corporate Partner," said Kristy Wallace, President of Ellevate Network. "Their commitment to diversity and providing professional women with the opportunities they need to succeed makes them a great fit to work with Ellevate Network. We welcome them to our community and look forward to collaborating."
About Ellevate Network
Ellevate Network is a global network of professional women committed to elevating each other through education, inspiration, and opportunity. Our mission is to close the gender achievement gap in business by providing women with a community to lean on and learn from.
About Freddie Mac
Freddie Mac makes home possible for millions of families and individuals by providing mortgage capital to lenders. Since our creation by Congress in 1970, we've made housing more accessible and affordable for homebuyers and renters in communities nationwide. We are building a better housing finance system for homebuyers, renters, lenders and taxpayers. Learn more at FreddieMac.com, Twitter @FreddieMac and Freddie Mac's blog FreddieMac.com/blog.