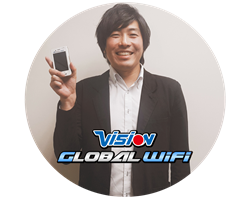 I am very happy that Vision Global WiFi which was mostly active in Japan and other Asian countries has become available in the USA. We look forward to providing a service that can improve global communication.
Tustin, California (PRWEB) May 18, 2017
Vision Mobile USA Corp., a global mobile hotspot service provider, launched Vision Global WiFi in hopes of combating the ever-present problem of high-cost international data roaming fees. The pocket-sized Wi-Fi router lets users connect up to 5 devices such as their smartphone, tablets and PCs in 4 different regions with over 130 countries expected to be covered by the beginning of summer. With a fast, reliable, and secure mobile network at prices reaching as low as $2 a day, Vision Global WiFi is the best travel companion for business and leisure travel alike.
[Vision Global WiFi] is a top brand of the TSE listed corporation Vision Inc. which has been offering portable Wi-Fi rental service for over 5 years to more than 4.5 million international travelers. Although the USA sees the largest numbers of overseas travel, it is also the country which experiences the most problems with international roaming costs. With its extensive know-how accumulated over the years, Vision Global WiFi is very confident in its ability to solve this dilemma.
With ample amount of data, business travelers can access corporate sales sites and partake in conference calls. Tourists looking to stay connected to family and friends can post to social media sites, use navigational tools such as Mapquest and Google Maps, as well as gather information at ease with the high-speed network provided by Vision Global WiFi.
Vision Global WiFi Service Details
Portable Wi-Fi router rental service that keeps you connected anytime, anywhere.
*Service reaches countries in 4 different regions with an estimated coverage of over 130 counties by the summer.
*Strong focus on catering to the tens of millions of corporate and leisure travelers per year that travel abroad.
*Long-term plans for extended business trips or students studying abroad starting at prices as low as $2 per day.
*Customized plans for corporate clients are also available
All reservations are can be made via our website with a 3-easy step application. In the future, reservations can also be expected to be made through alliance partner channels. Pickup and return of the Wi-Fi router device is possible via delivery or at the LAX currency exchange counter located at the Tom Bradley International Terminal. Plans of future airport counter expansions are also in the works.
[For service・corporate contracts・partnership alliance information]
VISION MOBILE USA CORP.
14451 Chambers Rd Suite 250 Tustin, CA 92780
https://visionglobalwifi.com/
About VISION MOBILE USA CORP. 「Vision Global WiFi」
Founded as a subsidiary to parent company Vision Inc. in September of last year, Vision Mobile USA Corp. began offering 4G LTE speed portable WiFi Rental service [Vision Global WiFi] in the US as a way of dealing with the recurring problem of high-cost roaming fees. Vision Inc., which boasts the largest scale of customers worldwide, has applied its experience and knowledge (listed on the TSE) to utilize the global network of telecommunication carriers all over the world to deliver the best mobile network connection service.