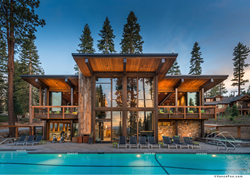 We spend a lot of time talking to and getting to know our owners, which helps us to enhance the community and continually shape our offerings...
Truckee, CA (PRWEB) May 16, 2017
Mountainside at Northstar, Lake Tahoe's exclusive ski-in/ski-out community, concludes a successful winter season with a dozen transactions totaling over $20 million in residential sales in the first 60 days of 2017. This year's record ski season also brought record sales to the ski-through enclave, which recently unveiled a plethora of new amenities and offerings for residents to enjoy.
The sought-after four-season community had one of its busiest winters on the books, with current and prospective owners taking advantage of the slopes just beyond their backdoor, and a dozen new owners joining the intimate enclave tucked on the side of Northstar. Mountainside is already looking ahead and planning for the upcoming groundbreaking on a new neighborhood, set to come online in early 2018.
"We saw a surge in sales activity right after the holidays, with most transactions occurring in the last 60 days," says Mountainside Partners Senior Strategist Ron Barnes. "This bodes extremely well for the community, as we typically see the balance of the year come in at 200-percent of the peak winter sales. As such, we will officially announce groundbreaking on a new neighborhood soon."
In preparation of the busy winter season, Mountainside at Northstar introduced multiple new amenities for owners and guests, including a Yoga Studio, a serene escape for a moment of zen, nestled into a rock outcropping among the picturesque pines; three architecturally stunning Rendezvous Cabins, available complimentary for day use or overnight accommodations; and the introduction of the first artist in residency program. This summer, Mountainside will unveil Play Acre, situated in the center of the community and a hub of all outdoor activity, allowing kids of all ages a place to explore, create and just have fun.
"We spend a lot of time talking to and getting to know our owners, which helps us to enhance the community and continually shape our offerings. We know they want places to gather and connect with each other, and that's what we strive for not only in our actual development plans but also in our programming and events," says Barnes. "The Yoga Studio and Rendezvous Cabins provide an elevated mountain experience for families and friends to spend time together – or alone, should they choose – while the first artist in residence, landscape artist Zaria Forman who spent a month creating on-site, was also a huge success and popular social aspect for the community this winter. We're looking forward to another great summer and showcasing Mountainside in all its beauty, with the amazing summer weather and everything there is to do on the mountain and at nearby Lake Tahoe."
Mountainside at Northstar has quickly become Tahoe's most desirable second home community, with innovative home offerings boasting modern mountain architecture and immediate access to endless outdoor activities just steps outside, combined with the community's ongoing evolvement of exclusive amenities and programming available to owners.
For more information on Mountainside at Northstar, please call (530) 550-2010 or visit http://www.MountainsideNortherstar.com.
About Mountainside at Northstar:
Mountainside at Northstar is located on-mountain between The Ritz-Carlton, Lake Tahoe and The Village at Northstar. Seamlessly integrated with the mid-mountain terrain, the four-season community boasts a vision to offer turnkey outdoor experiences for owners, with extensive plans underway for new amenities and unique real estate offerings. Mountainside owners enjoy close proximity to the world-class amenities of The Ritz-Carlton, Lake Tahoe and The Village at Northstar. Residents also enjoy use of Tree House, the clubhouse and community gathering space that includes a pool, game room, lounge and sport court. Additional amenities and programming include The Yoga Studio, Rendezvous Cabins and a seasonal artist in residency.
About Mountainside Partners:
Mountainside Partners is a real estate development company, which has created world-class resort experiences in the Lake Tahoe area. The Mountainside Partners team developed the Old Greenwood Community, Gray's Crossing Community, The Village at Northstar, The Ritz-Carlton, Lake Tahoe and is currently developing the Mountainside at Northstar Community. In addition, CREW Tahoe, LLC is the owner and operator of Tahoe Mountain Club.