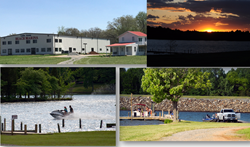 Mike and JoAnn Vallerie; the owners of Pleasants Landing Marina are thrilled to announce that they will be hosting the Grand Opening of Pleasants Landing on Saturday
Louisa, Virginia (PRWEB) May 22, 2017
Mike and JoAnn Vallerie; the owners of Pleasants Landing Marina are thrilled to announce that they will be hosting the Grand Opening of Pleasants Landing on Saturday, May 27th 2017 from 4pm to 7pm, featuring food, beverages and live entertainment. This much-anticipated event will allow everyone to enjoy the completed restoration of the property including the docks, marina store, beach, patio, future ice-cream parlor & restaurant and more. The brand new jet skis, rental boats and pontoons are glistening in the sun, awaiting their introduction to the sweet waters of Lake Anna!.
Pleasants Landing Marina provides a much-needed point of public access for boaters and swimmers who are located closer to the south eastern end of the lake. Additionally, residents and guests can enjoy significant amenities which will be welcomed by all in the community. Services will include: boat rentals, jet ski rentals (Maryland style, group sessions with a guide), sales of marine motor craft, a safe and clean beach, rental of non-motorized water craft such as kayaks and paddle boards, water safety courses, an on-the-lake boat fueling station, boat launch services, and a marina store. Events will include evening concerts, fundraisers, antique car shows, art festivals and more. Future plans include a restaurant and residence dining club which will host quarterly dinner dances and an ice cream parlor.
After 16 months of extensive restoration, the major hurdles have been crossed. Owners JoAnn and Michael Vallerie, are overjoyed to have finally arrived at this point and recalls that the journey was "exhausting but well worth it, and a triumph for small business and the community; there will be a common enrichment for all the local businesses through increased consumer traffic and local residents through the creation of permanent and seasonal jobs." The opening of the marina will clearly strengthen the community both culturally and financially. Plus it will be loads of fun to rent a jet-ski, take out a boat, fish or just splash around and lounge in the sun on the sandy beach that stretches over much of the property.
The grand opening will be taking place at Pleasants Landing Marina on Saturday, May 27th 2017. Mike reminds guests to remember to bring a lawn chair and if they would like a picnic dinner. Water shoes are always a good idea for young children with tender feet. Patrons of Pleasants Landing are not permitted to bring alcoholic beverages on the property. The Valleries are looking forward to celebrating the opening of this beautiful new location on the shores of their beloved Lake Anna.
The Marina is located at 349 Pleasant Landing Road Bumpass, VA 23024, for detailed directions please visit the website at http://www.pleasantslanding.com